View Other Details

Pricing

Price Details

Program Cost Includes:

• Comprehensive Advising and Support

• Tuition at the Host University

• Official Transcript from Host University with ISA Cover Letter

• Housing

• Bridging Cultures Program

• Full-Time Resident Staff

• On-Site ISA Offices

• Computer and Internet Access

• Excursions

• The ISA Discovery Model

• Cultural Activities

• Medical Insurance

• Comprehensive Health, Safety and Security Support

• Airport Reception

• Visa Support

• The Professional Development Toolbox

• Scholarship Opportunities
2 travelers are looking at this program
Study abroad in Oxford, England with ISA!
Home of the world-renowned Oxford University, Oxford is full of historic wonders - from the legendary Christ Church cathedral to humorous grotesques (similar to gargoyles). Throughout your time in Oxford, you will discover spaces that inspired the scenery from the Harry Potter films. Studying just 60 miles northwest of London, you will be able to explore the North Wessex Downs, the Shark House, and Christ Church's Great Hall.
ISA programs are hosted through Oriel College at the University of Oxford.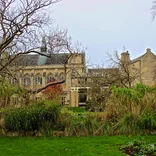 Oriel College is the fifth oldest of the University of Oxford's constituent colleges, founded in 1326. Situated in the heart of Oxford the majority of Oriel's buildings date from the 17th century onwards and include the Chapel, Pantin Library, Senior Library, and Hall. The College prides itself on being a welcoming academic community, home to world-class teaching, learning and research.
ISA Scholarships and Financial Aid
ISA is committed to increasing all students' access to study abroad's many benefits. We don't let financial hardships to get in the way of a life changing educational experience.