EF Teen Travel Groups to Japan & South Korea
Location
Multiple Locations
+2
View Other Details

Pricing

Price Details

• Two week language immersion course taught by certificated, native speaking EF teachers

• EF Group Leader: A trained and supportive native language speaker

• 24/7 support and emergency assistance

• Pre-departure orientation at EF's North American headquarters

• Package includes course, activities, study materials, airport transfers, and residence accommodations

• EF Travel kit and backpack

• Course report and certificate

What's Included

Accommodation

Airfare

Airport Transfers

Classes

Meals

Wifi

What's Not Included

Some Activities

Domestic Airfare

Some Meals

Travel Insurance
5 travelers are looking at this program
Join students your age on a language learning adventure abroad this summer with EF International Language Campuses.
You'll join a chaperoned group of teens from across North America to explore a new culture and learn a new language. With this all-inclusive trip, EF will take care of everything from classes to activities at an amazing price per day. Learn the words to your favorite K-Pop song, take an Anime drawing class and taste test sushi or bibimbap while visiting the most popular attractions on this guided study abroad adventure.
Meet your group at EF's North American headquarters for a pre-departure orientation and welcome session. From there, you'll fly with the group to Asia and settle in to the EF Residence, located in the heart of the city (perfect for sight seeing). Your group leader will plan the perfect mix of classes, activities and fun. Aside from plenty of exploring, you'll make guaranteed progress towards your language learning goals.
Program Highlights
Choose from Japanese in Tokyo or Korean in Seoul!
EF has over 55 years of experience. Teachers and staffed are expertly trained & available 24/7.
Return home with proof of your success, an EF Course Certificate featuring your new language level!
Just for students aged 13-15
Explore like a LOCAL (think walking tours of the city, karaoke, crafts & more)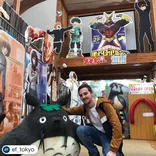 Departing July 1, 2022, just for students aged 13-16.
$4,815 per student. Spots are limited!