Term
Academic Year, Fall, Spring
View Other Details

Pricing

Price Details

The program fee includes:

- Tuition and housing

- Pre-departure advising and optional on-site airport meet and greet

- Full-time program leadership and support

- Field trips and cultural activities

- CIEE iNext travel card which provides insurance and other travel benefits

CIEE also offers a wide variety of scholarships for participants; see website for details.
0 travelers are looking at this program
Expand your Spanish skills, exponentially, and immerse yourself in local culture in one of Mexico's most beloved cities—Guanajuato.
Through homestays, direct enrolment at a prestigious local university, community service opportunities, and a host of cultural activities and excursions, studying abroad in Mexico offers you an exciting intercultural experience and unique insight into Mexican art, language, literature, and history.
Study abroad in Mexico and you will:
- Enroll in courses alongside Mexican students at the local university
- Take specially designed, socially oriented CIEE courses in migration, literature of the revolution, Mexican history, and language
- Explore the charming and vibrant colonial city of Guanajuato, with its many galleries, alleyways, and cafés—and come to know local life through a homestay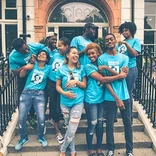 CIEE Scholarships and Grants
CIEE's need-based grants offer support to students who face financial barriers to studying abroad. CIEE awards need-based grants based on students' EFCs and program selection. The Gilman Go Global Grant offers students $750-$2,000 toward airfare, plus $2,500 toward semester program costs, or $1,000 toward summer program costs.