Classroom Audience
Early Childhood
Middle School
High School
View Other Details

Program Details

Classroom Audience

Early Childhood

Middle School

High School

Pricing

Salary / Benefits

Salary: $2,200–$2,625 USD a month
70 travelers are looking at this program
Japan continues to be one of the most popular destinations for teachers wishing to teach English abroad.
Whether you are interested in Japanese art, cuisine, anime, language or culture, Japan will have something for you, and teaching in this beautiful and historical country is an incredibly rewarding experience.
On Teach Away's job board you can find ESL positions advertised throughout the year for various public and private schools across the country. Visit our website to view current teaching opportunities in Japan and apply today.
Program Highlights
Japan's literacy rate is almost 100%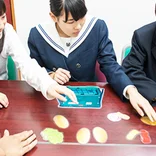 Amity is a leading English conversation educator for children in Japan. Amity has been providing international teaching opportunities for more than four decades at over 90 branch schools throughout Japan. Amity is seeking enthusiastic and motivated professionals who enjoy working with children.
Abroad International School - Okayama provides a comprehensive education in English which follows the IB PYP curriculum at the moment. We maintain a low student to teacher ratio allowing for a strong student-teacher relationship.
View the latest teaching job postings by Teach Away.