View Other Details

Program Details

Housing

Apartment

Guesthouse

Host Family

Hostel

Groups

Small Group (1-15)

Medium Group (16-30)

Pricing

What's Included

Accommodation

Airport Transfers

Equipment

Meals

Transportation

What's Not Included

Activities

Airfare

Domestic Airfare

SIM cards

Travel Insurance

Visa

Wifi
8 travelers are looking at this program
Peru is home to widely celebrated Incan archaeological sites and Amazon jungles, and is a country with a diverse cultural history. Travel to Cusco, surrounded by the Andes mountain ranges where you can participate in a variety of sustainable development projects.
Get involved in Education initiatives, environmental conservation, and sustainable business management projects. You will gain hands-on experience and can develop your intercultural communication skills. You will also have the opportunity to gain a better understanding of Peruvian culture and practice your conversational Spanish.
GVI has short, mid, and long-term objectives for each project that align with the UN Sustainable Development Goals (UN SDGs), and maintains a strict Child and Vulnerable Adult Protection Policy for ethical best practices.
Program Highlights
Improve your intercultural communication and gain hands-on experience in a variety of sustainable development projects.
Visit the Sacred Valley, exploring Machu Picchu.
Learn about Peruvian culture, try ethnic cuisines, and practice your conversational Spanish.
Contribute directly to the UN SDGs.
Meet like-minded people from around the world.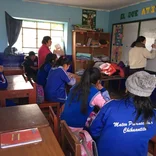 Practice your conversational Spanish while contributing to the UN Sustainable Development Goal 4: Quality Education. Join other international participants to assist local teachers to conduct English classes for youth. This is also a great way to better understand different cultural practices in the community, while also having the opportunity to visit Incan archaeological sites.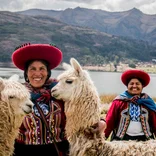 Join other international teen participants to support environmental conservation and economic development in Cusco. As Machu Picchu is a highly visited destination, with only one main source of water supply available, your contributions to preserve the natural resources of the area assists with the UN SDG Goal 6: Clean Water And Sanitation. This is also a way to visit the Sacred Valley of the Incas and be a part of locally-run festivals.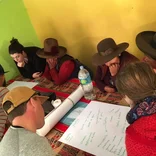 By supporting projects that focus on the economic growth of Cusco, you are actively contributing to the UN Sustainable Development Goal 8: Decent Work and Economic Growth. Get involved with GVI staff and partners to assist local businesses and community members through sales and marketing, brand development, English classes, and identifying any current challenges for the business. Enhance your skills in business management and teaching, and improve your CV for future job opportunities.