Work and Play in Australia
What is the Working Holiday Visa?
This visa is for 18-30 year olds who want to work and travel in Australia for up to 12 months. The visa application costs $460 CAD and takes about 6 days to be approved. Once you arrive in Australia, you can choose from a wide variety of jobs, and minimum wage is CAD $18.
Requirements:
Be 18-30 at the time of application
Have a valid passport
May not be accompanied by dependent children
Choose from these Working Holiday Packages
Jumpstart your adventure: the packages below will help you find a job, make friends, and get to know Australia.
Everything you need to start your working holiday in Australia: reliable support, jobs paying $22/hr or more, and a week of fun with new friends in Sydney! Our program helps with the tedious details (like bank accounts, job assistance, and housing advice), so you can focus on better things - like exploring Australia! (Visa cost not included). View all details
Start your Australia working holiday experience in style with our exclusive Work Abroad Traveller package! Get the work abroad induction pieces that come with our Work Abroad Plus trip over the first two days, then travel around some of the East Coast of Australia's top destinations. What's not to love? (Visa cost not included). View all details
Going for a working holiday can be the most exciting time of your life. Meet new people, challenge yourself, and explore the world. Spend a year in Australia surfing, exploring, and living the dream! Our package helps get you set up to make money, make friends, and have an adventure. (Visa cost included). View all details
SWAP Australia + 7 Day program is the best way to start off your working holiday in Australia. You'll learn all of the basics you'll need to live and work in Australia and you'll be part of a group enjoying fun activities, getting to see some of the highlights of Australian life, all while meeting new lifelong friends. (Visa cost included). View all details
Explore Jobs in Australia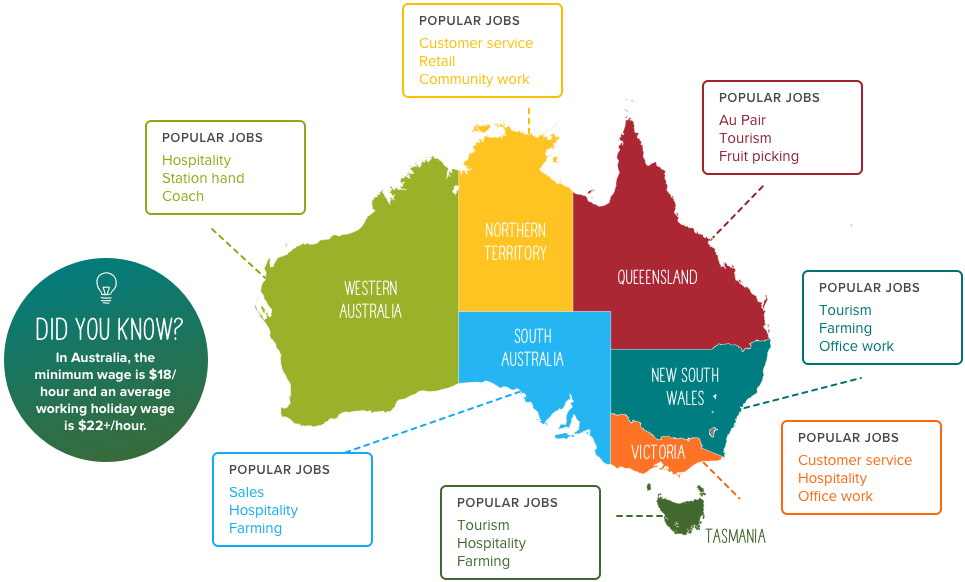 What jobs are available?
Below are just a few of the job opportunities you'll have in Australia
Hospitality
Server, Bartender, Hostel, Au Pair, Tour Guide
Farm/Ranch
Agriculture, Working with Horses, Wineries
Outdoor
Scuba Diving Instructor, Wildlife Conservationist
Internships
PR & Marketing, Finance, Hospitality, Fashion, Startups
Places to Work
Australia has job openings in a variety of interesting places
National Parks
Freycinent, Kakadu, Royal, Flinders Ranges
Coastal
Noosa, Burleigh, Main Beach, Surfer's Paradise
Outback
Uluru, Kalgoorlie, Alice Springs, Kimberley Region
Cities
Sydney, Melbourne, Brisbane, Perth, Adelaide
Things to Do
You'll have many adventurous activities to choose from during your time off
Adventure
Skydiving, Scuba Diving, Surfing, Kayaking
Nature & Wildlife
Great Barrier Reef, The Twelve Apostles
Culture
Sydney Opera House, Music Festivals, Aboriginal Tours
Excursions
Train Rides, Road Trips, Surf Camps, Wine Country