Internships Abroad
How to Budget for Your Internship Abroad
Whether your internship abroad is paid or unpaid, knowing how to manage your monthly expenses is essential. We're here to help you sort out a budget that will have you living your best life while interning overseas.
Creating a functional budget is an important first step to navigating your internship abroad. Aside from the basics like food, transportation, and housing, interns should also keep in mind other expenses that may arise. Additional costs like paying for a cell phone plan, health insurance, and incidentals can sneak up on you if not factored into your financials. Last but not least, don't forget to set aside some monthly fun money, too. You don't want to miss out on all the activities outside of work!
Knowing how much cash you'll need each month can feel overwhelming. If you don't know where to start, let us help you with our top tips on how to budget for your internship abroad.
Outline a Budget Before You Leave
Housing
Finding somewhere to live is perhaps one of the most important things you'll need to do and it will likely be your biggest expense. If you are interning abroad on a program, you may receive assistance with this (and if you are paying a program fee, housing might even be included).
To get an idea of monthly rent prices, you may be able to reach out to a contact at your host company who can help you. Otherwise, websites like Numbeo can give you a rough estimate of the cost of living in your destination. Searching housing websites will also highlight the current market rental rates for apartments or houses.
Average prices for a room in a shared city center apartment in popular internship destinations:
Source: Numbeo
Housing costs may or may not include utilities and extra shared costs like internet and TV.
Savings Tip: For those with a tight budget, consider looking into student or dormitory housing (in summertime this may be more available for non-students) or, better yet, a homestay. Not only could this save you money on extras like utilities, but you may even have meals included in the deal! And, of course, it's another great opportunity for cultural immersion in your host country!
Meals
If you don't find yourself in a homestay with 2-3 free meals per day, food could be something that adds up quickly in your budget. In an internship atmosphere, you may also feel pressured to eat out everyday if eating lunch together is part of your host country or host company culture.
Keeping this in mind (you definitely don't want to appear rude by always turning down lunch invitations), try to include one restaurant meal per day when building your budget. Thankfully, lunch time is usually a cheaper time to eat out with special deals just about anywhere in the world you go!
Plan to grocery shop and prepare your own meals the rest of the time if you're looking to save money. Though, in some countries (like Thailand), it may actually be cheaper to eat out than to cook for yourself at home. Ask around at your internship and keep an eye out for what the locals do. Eat where they eat and you'll probably save a fortune!
Average prices for a meal at an inexpensive restaurant in popular internship destinations:
Melbourne, Australia - $13
Beijing, China - $5
London, England - $21
Paris, France - $18
Dublin, Ireland - $19
Mexico City, Mexico - $7
Madrid, Spain - $15
Source: Numbeo
Savings Tip: Whoever said there's no such thing as a free lunch was only half-right. If you're going to go out for drinks anyway, you can save some money with free tapas in Spain or an aperitivo (often a small buffet) in Italy. Or if you're in a hopping city like Shanghai, with a little digging you could probably find a special event with free food and drink almost any night of the week!
Transportation
Transportation becomes more of a budget concern when you're interning abroad than when you're studying abroad. You won't be living in dorms a few minutes away from your classes and you will likely need to be at work on time everyday.
Look into the costs of weekly or monthly transportation passes in your host city before you go so you have an idea of how expensive this might be. Some cities may include all forms of transportation under one pass, while others may require different passes for buses versus the metro. Some may have "all you can ride" passes, while others may just be a "pay as you go" system.
Average prices for monthly transport passes in popular internship destinations:
Melbourne, Australia - $121
Beijing, China - $31
London, England - $209
Paris, France - $91
Dublin, Ireland - $170
Mexico City, Mexico - $15
Madrid, Spain - $66
Source: Numbeo
Savings Tip: If you have a student ID card, or even proof of residency, you may be eligible for a major discount! For example, if you are under 26 in Madrid, you're eligible for the "abono joven" metro pass which costs 20€ ($24) a month for unlimited travel versus the regular 54€ ($66) fare.
Other Necessities: Phone & Health insurance
Participating in a professional experience abroad often comes with a few more obligations. You may be required to show proof of local or international health insurance. You also may be expected to be reachable outside work hours by your colleagues, so a phone may be more necessity than luxury. These recurring costs can also add up, so be sure to make some room in your budget for them.
Savings Tip 1: If you're going abroad through a program, there's a good chance you can get a special rate on health insurance through them. You may also be able to use your current health insurance while abroad, so check into that! If you're under 26 and still on your parents' insurance, make sure you're covered abroad -- you may not need anything extra. International student health insurance like Compass Student Insurance or PGH Global offer plans for those going abroad.
Savings Tip 2: As for your phone, you might be able to unlock your US phone and buy a SIM card while you're abroad. The plans on a prepaid SIM will typically have data limits but are dirt cheap compared to US plans. Also, to conserve data, connect with wifi whenever possible. In most cities around the world, you'll find countless bars, restaurants, and cafes with free public wifi.
Fun Money
While the main focus of your internship abroad is gaining professional experience, you should try to make the most of your new surroundings! If money is limited, your best bet is to have a certain amount saved for these fun extra activities.
After all, you never know when a colleague is going to invite you to join them on a big night out on the town or to their summer cottage in the country. Don't say yes to things you absolutely can't afford, but try to leave some flexibility for these kinds of unforeseen opportunities.
Savings Tip: Your student ID card can be your best friend! It can get you discounts on entry to museums, travel passes, lodging, and so much more. If you're not a student, try searching the internet and looking for Facebook pages dedicated to free things to do in your host city. Free events like language exchanges or walking tours can be a great way to meet new people and get the lay of the land.
Don't Be Afraid to Ask for Advice
There could be a variety of discounts on all kinds of things based on your status -- whether it's as a resident, a student, an intern, or even for your specific host company. Don't be afraid to bring up budgeting questions in conversation with a colleague or your supervisor. While you shouldn't bank on it, if you make your host company aware of your concerns regarding your daily expenses, you may be surprised by some generosity.
For example, your company might have a history of providing extra perks like transport passes or cell phones to their interns. If not, it may be something they would consider doing moving forward. If you aren't getting paid, your employer may be more open to providing some added benefits.
Track Your Expenses
While keeping a spreadsheet of all your expenses may sound over the top, if you're on a serious budget it can be a lifesaver. Carry around a small notebook with you and jot down every expense -- every snack, coffee, beer, water, souvenir -- and update your spreadsheet regularly. You'll be able to see where your money is going, and seeing your spending habits can really help you stay on track with your budget.
Or, consider using a budget tracker app like Mint that will link to your bank account and credit card to keep a record of what you're spending. You'll have to enter cash expenses manually, but it's super easy and you can do it right on your phone. They'll even notify you if you're overspending in certain areas.
If at the end of the week or month you see that you've spent enough euros on espresso to pay for a couple weekend Ryanair flights to other countries, that perspective may just help you curb your unnecessary spending.
The Extra Planning Will Be Worth the Effort!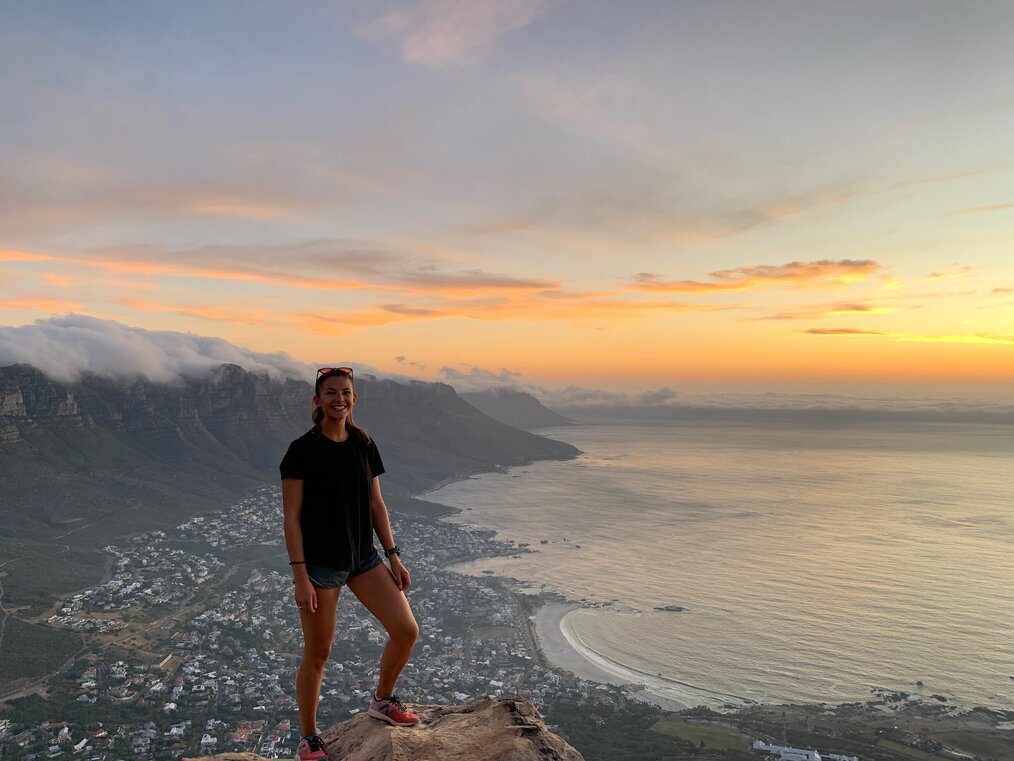 Planning and sticking to a budget can help you to avoid unnecessary headaches and stress during your internship abroad. Even if you max out your budget and come home feeling a little bit poor though, you will be richer in experiences! These experiences will look awesome on your resume, and could very likely help you land a better-paying job faster and more easily than your peers lacking an international internship on their resume. Long term, this means more money in the bank. Go you!
This article was originally published in April 2015 and was updated in April 2021.