Teach Abroad
What is the Average Salary for Teaching Abroad in Spain?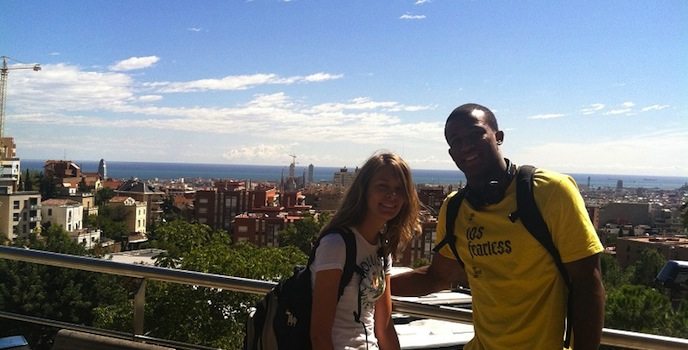 Updated September 18th, 2015
Despite a weak economy (and partly because of it), there are thousands of opportunities to find a job teaching English in Spain -- both in government schools through the North American Language and Culture Assistants program, and in private language schools and institutes.
Naturally, before moving to Spain to teach English you'll likely want to know what your salary will be. Well, you're in the right place. Read on to find out how much you can make teaching English in Spain and whether or not it's enough to live off of.
How Much Can You Make Teaching English in Spain?
Depending on how you find a teaching position in Spain, which city you're teaching in, and what sort of institution you work for, you can expect to make a minimum of €700 ($950 USD) per month and up to €1800 ($2,400 USD) per month. Hourly rates for private tutoring tend to hover between €18 - 20 ($17.50 - $27 USD) per hour.
Furthermore, English teachers in Spain don't typically receive benefits like free airfare and housing that are common in other countries. Even so, your salary will allow you to live comfortably and enjoy the international experience of a lifetime.
Want more details on what these salary numbers mean? Then lets break it down a little further:
North American Language and Culture Assistants: €700 - 1,000 per month
Those who participate in the North American Language and Cultural Assistants program, which places up to 2,000 Americans and Canadians in government schools throughout Spain as assistant language teachers, will make a minimum of €700 ($950 USD) per month and up to €1,000 ($1,350 USD) a month in Madrid.
In addition, participants also receive basic health insurance. These stipends are a bit on the low end of the salary scale, but most assistants find it enough to live on and some give private lessons on the side to make extra cash.
Private Language Schools & Institutes €13-€18 per hour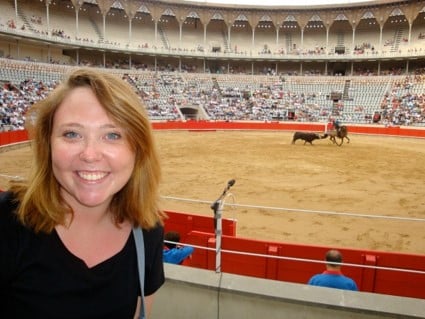 While the North American Language and Culture Assistants program is the most famous program for teaching English in Spain, there are actually thousands more professional teaching opportunities for first-time TEFL certified teachers in Spain in private language schools and institutes.
These are typically private enterprises that cater primarily (though not always) to adults – businessmen, university students, those who work in tourism, etc. – private language schools usually pay by the hour and they tend to hire locally in Spain.
Most first-time teachers can expect to make €13-€18 ($17.50 - $24 USD) an hour, so if you work full-time (typically 25 hours a week, contact time in a classroom), you will make €1,300 - €1,800 ($1,750 - $2,400 USD) a month. This is definitely enough to enjoy all that Spain has to offer, including travel around the country on your time off, eating and going out on the weekends, and pursuing other individual pursuits (flamenco lessons, anybody?).
Those who teach in major cities like Madrid, Barcelona and Bilbao typically make more per hour than those teaching in smaller towns, but the cost of living is also higher.
In the end, you will probably break even financially, meaning that once you begin teaching and receiving a full paycheck, you should be able cover your expenses and enjoy comfortable standard or living, but you probably shouldn't count on putting money in the bank as savings at the end of each month.
Private Lessons: €18 - 20 per hour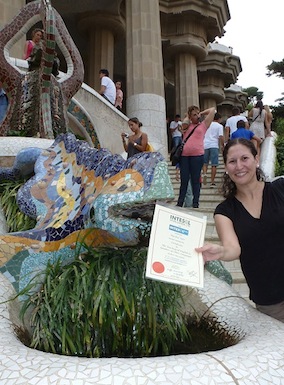 The demand for private English lessons in Spain is enormous and many foreign English teachers give private lessons either to make ends meet or to bolster whatever income they earn at a local language school.
Some teachers work part time at a language school and fill the rest of their schedule with private lessons and others earn most or all of their income by giving private lessons.
In major cities like Madrid, expect to make around €20 ($27 USD) an hour at first, and a bit more if the lessons are for more than one student. If a student commits to a block of hours (five or more for example), it's customary to cut them a bit of a discount, so expect to earn €18-20 ($17.50 - $27) an hour.
How Much Does it Cost to Live in Spain?
Based on their experiences as tourists, or perhaps on the fact that the Euro is worth more than the U.S. dollar, many Americans assume that living costs in a European nation like Spain is high, but in fact, the cost of living for a typical English teacher in Spain is generally lower than in major American cities like Chicago, Boston, and San Francisco.
However, the cost of living is typically higher in large cities and major tourist destinations, and of course the cost of living can vary from neighborhood to neighborhood within any city.
For a little perspective, here are some cost of living estimates for several major cities in Spain based on feedback and discussions with actual English teachers and school directors working and living in Spain as of September, 2015:
Overall Monthly Cost of Living in Spain
Barcelona: €750-€1200 ($1,100 USD - $1,620 USD) per month (A Thing For Worlds details her living expenses in Barcelona well)
Bilbao: €700-€1200 ($1,080 - $1,650 USD) per month.
Madrid: €1200-€1500 ($1,650 - $2,025 USD) per month (Source: Expatistan
In most Spanish cities, foreign English teachers can expect to pay €250 - €450 ($340 - $610) a month in rent for a furnished apartment; most English teachers share an apartment with other English teachers or local citizen to cut down on housing costs. Living costs will generally be lower in smaller towns – as long as they aren't ritzy resorts - where you can probably live on as little as €700-€1000 ($950 - $1,365 USD) a month.
Some Financial Tips for Teaching Abroad in Spain
Yes, you will be living in Europe, and yes, it will be a challenge to save monies during your time teaching abroad, but don't let that discourage you. Here are some basic tips to make sure you hit the ground running, and have a positive experience working as a teacher in Madrid, Barcelona, Granada, et al.
Be prepared for start-up costs – Whether you teach through the North American Language and Culture Assistants program or you get hired by a private language school, try to bring at least $2,000 to help you cover start-up costs like paying your first month's rent and supporting yourself until you get that first paycheck.
Get a roommate – Sharing an apartment typically cuts down on living costs.
Plan on giving private lessons – It's a great way to earn several hundred extra euro a month for travel and other expenses, it will help you hone your teaching skills and meet locals on a personal level.
Get a TEFL Certification – TEFL certification will provide you with the training you need to teach effectively and qualify you for good jobs that pay well.
While you may not save $1,000 a month or receive free housing while teaching English in Spain, the value of living in one of the world's most beautiful, cultured and historic countries cannot be measured in dollars or euros. The keys to making it happen are preparation, research and taking the initiative, and if you follow through, you will enjoy one of the greatest adventures and most enriching experiences of your life.
Photo Credits: Author John Bentley.
Disclaimer: We have paid relationships with some of the companies linked to within this article.