Travel Tips
What You Need to Know Before Trekking in Tibet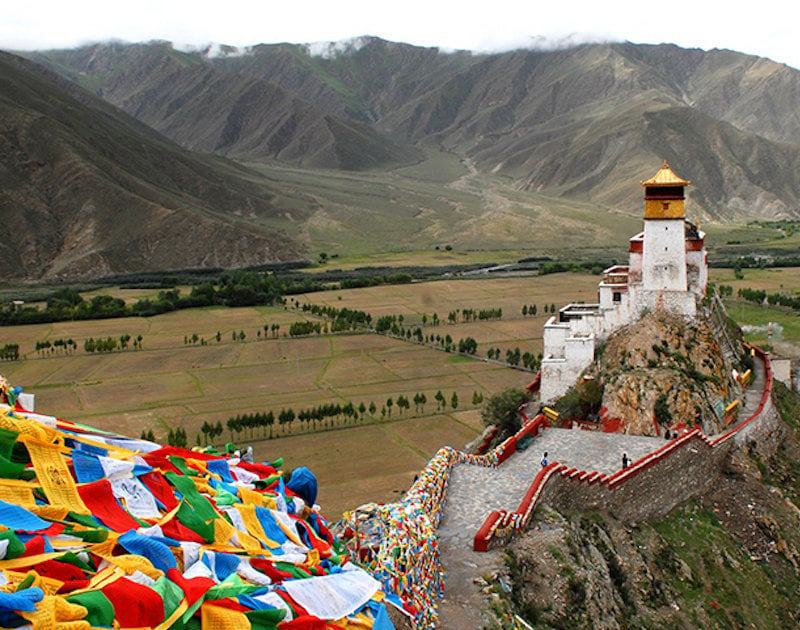 It seems like Tibet is on just about everyone's bucket list. But with a complicated visa process, a mandatory tour, and a sticky political situation, Tibet is one of the most difficult places in the world to visit. I was fortunate enough to make my way to Tibet at 22-years-old, and I'm dying to head back!
Trekking through Tibet is an experience you'll never forget.
Tibet is beautiful and complex. A vibrant culture, stunning landscapes, and generous people are shadowed by an oppressive government. From the breathtakingly beautiful Turquoise Lake, to the prayer wheels and incense in Lhasa, to the police checks every few hours on the road, Trekking through Tibet is an experience you'll never forget.
Our Route: Beijing - Qinghai - Lhasa - Kathmandu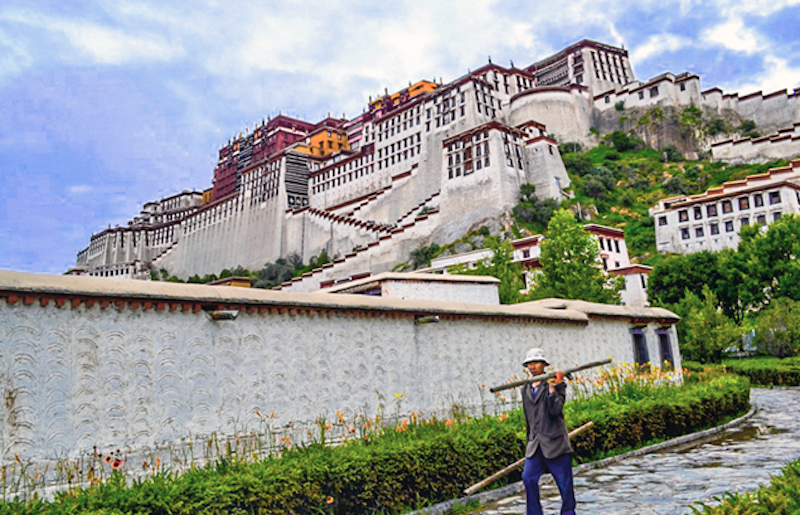 I traveled from Lhasa to Kathmandu in the summer of 2012 with three friends, a driver, and a Tibetan guide. I went with Tibetan Shaman Tours, which is a small local Tibetan company run by a man named Lumbum (no, I'm not kidding). He runs tours out of his home in Lhasa and only hires local Tibetan guides.
From Beijing I took a flight to Qinghai, where I spent some time acclimating to the altitude so I'd be less likely to get altitude sickness on arriving in Tibet. After a few days exploring Xinning and the Qinghai Lake, I hopped on a train to Lhasa, where I met my tour guide Denzin at the train station.
I wasn't ready to leave, but I knew I'd be back someday.
For the next eight days we traveled overland from Lhasa to the border of Nepal. We spent a full day in Lhasa, exploring the Potala Palace, Summer Palace, Dalai Lama's home and more. Lhasa was also in the midst of the famous Yogurt Festival, which unfortunately didn't have much yogurt. It did, however, have thousands of locals crowding a giant park, drinking yak butter milk tea and eating traditional snacks. I had the opportunity to see local dance performances and get a glimpse of what life is like in Lhasa outside of the stunning temples and palaces.
From Lhasa we passed through the Himalayas where we saw stunning views of the Turquoise Lake. We visited more temples than I can count, each more unique than the last. We stayed in a small town to try and catch a glimpse of Mount Everest at sunrise, and while we were waiting, we listened to 1950's communist propaganda music blasting in the nearby village.
After a week of traveling through Tibet, heading to Nepal was bittersweet. I was exhausted, both emotionally and physically. Changing hotels every night in combination with the extreme altitude left me feeling like a zombie, and witnessing the oppressive force of the government in Tibet broke my heart. I had come to love Tibet, my guide and driver, and the beautiful culture and landscape. I wasn't ready to leave, but I knew I'd be back someday.
Tibet, in a word was life-changing.
Finding the Right Tour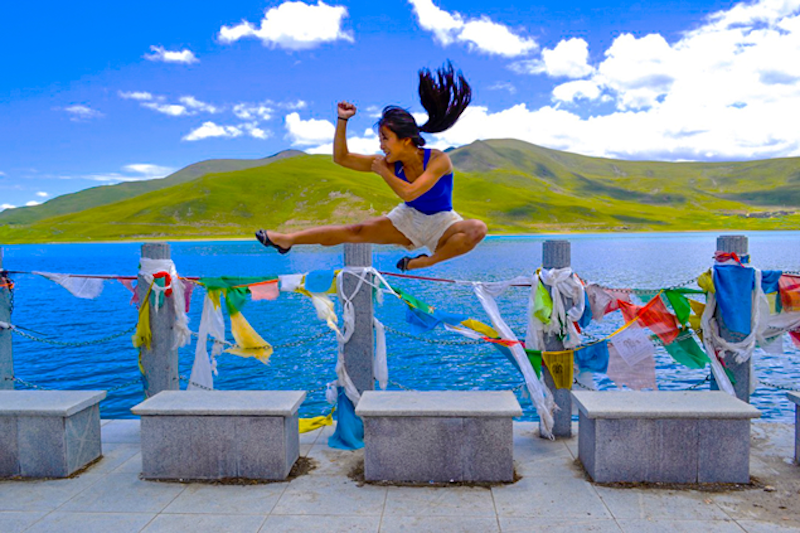 Most people show up in Beijing or Chengdu and pick a tour through their hostel. While this is the easiest way to plan a trip to Tibet, it's also not what I would recommend. Most of these tours take huge busses through the Tibetan countryside, with a Han Chinese (the main ethnicity in mainland China) guide who will give you the government-approved storybook version of Tibet.
You'll leave having seen the beautiful temples and stunning landscape vistas, but you won't see the darker side. You won't feel the tension in your guide's voice as he explains to you that he can't leave Lhasa if he doesn't have a tour to lead. You won't have the opportunity to talk to your tour company's owner over yak butter milk tea as he explains that he has to pay twice the price for a train ticket to visit his family in Sichuan because the Chinese mafia buys out all the train tickets to and from Tibet. You won't see the look on your guide's face as he watches hordes of Chinese tourists storm the Dalai Lama's childhood home... the home their ancestors ransacked as the Dalai Lama fled.
For me, a Tibetan tour company was the only way to go.
For me, a Tibetan tour company was the only way to go. One of my friends had previously been to Tibet with Tibetan Shaman Tours and recommended it to me; however, I am sure there are other local companies that are definitely worth looking into. Currently, the government may or may not have shut down their website, but the Facebook page still works, and you can organize a tour via email. Like I said, the government would much rather you visit with a Chinese tour guide.
The only issue with Tibetan Shaman Tours for me was that they only have private tours. As a frequent solo traveler, I only had one friend who was available to go with me. After asking anyone and everyone, we managed to get two other people on the tour with us, making it an affordable group of four.
Getting a Visa for Tibet
To visit Tibet, not only will you have to get a Chinese visa, you'll have to get a Tibetan tourist visa as well. This will be organized by your tour, but can only be done once you already have your Chinese visa. You'll have to send copies of your passport and visa, and your tour will take care of the rest.
Keep in mind that sometimes the Chinese government likes to close the border, and your trip can be canceled at any time. It's always good to have a backup plan just in case, and book travel insurance for the rare occasion that you might not be able to catch that flight out of Kathmandu.
Adjusting to the Altitude before Trekking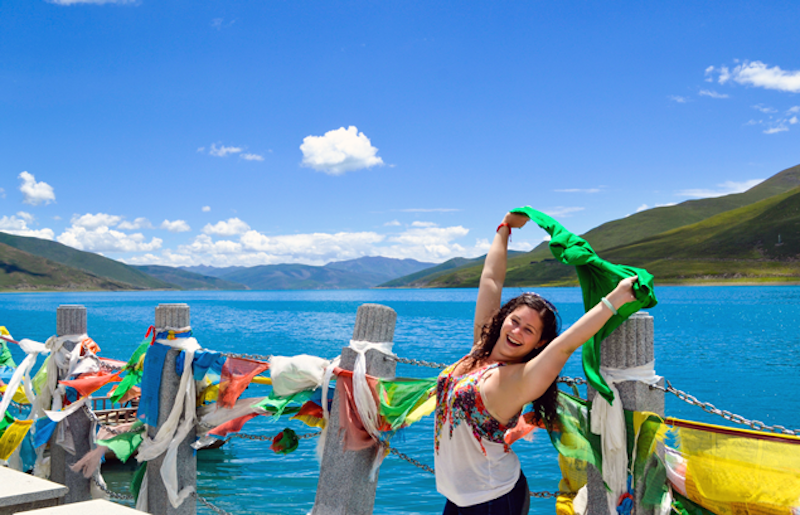 The altitude in Tibet is killer. As a coffee addict who loves a cold beer or a glass of wine after a long day, I actually didn't drink any alcohol or caffeine the entire time I was in Tibet! I constantly had headaches in the afternoon and felt winded just walking up a small hill.
My friend who visited Tibet before me suffered from debilitating altitude sickness. He's a very fit guy, and if he had issues I knew I needed to take it seriously! My friend did do a few things wrong that I wouldn't recommend for your trip. Firstly, he took a two-day train straight from Shanghai to Lhasa. Secondly, he didn't cut out caffeine.
I stopped drinking coffee and alcohol two weeks before my trip to Tibet. Trust me, it was definitely hard to teach 8am classes to little kids without my morning coffee, but I suffered for the sake of travel!
The train will take you about 24 hours, so be sure to get a bed rather than a seat.
Then I flew to Qinghai to get acclimated to the altitude. Xinning, Qinghai is about half of Lhasa's altitude, and a perfect half-way point to get yourself acclimated. You'll want to spend at least two full days in Qinghai, and be aware that Qinghai Lake is at a higher altitude than Xinning. My friends and I all felt a little sick and dehydrated after a day of exploring the lake, but I think it was definitely good for us in the long-run.
From Qinghai, take the train to Lhasa. While it might be tempting to fly, don't do it. Not only is the train ride absolutely stunning, it will help you slowly acclimate to the altitude. There have been stories of people flying into Tibet, lighting up a cigarette and promptly dying of a heart attack. Stop in Qinghai and take the train.
The train will take you about 24 hours, so be sure to get a bed rather than a seat. You'll spend the day with your face glued to the window as the stunning scenery passes you by. I was most shocked by the fact that every single building had a Chinese flag, even the tiny nomadic tents. You can really feel the oppressive atmosphere, even from the train ride. It was just a taste of what was to come during the rest of my trip.
Arriving in Lhasa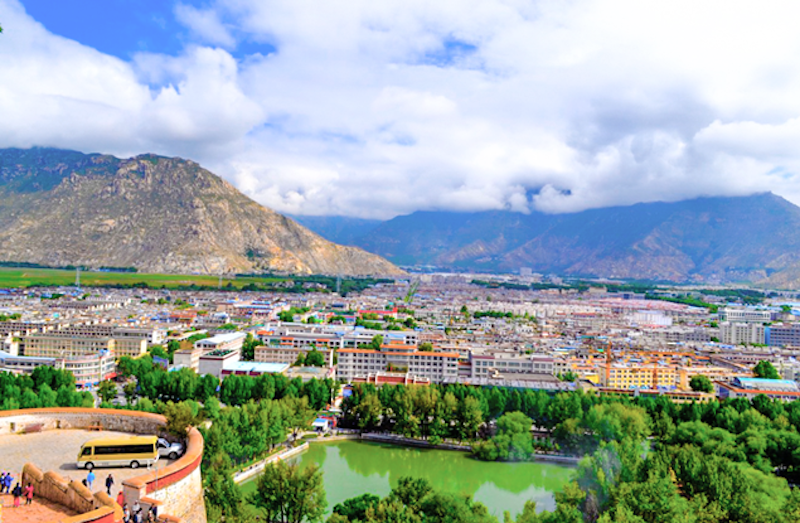 I arrived during a giant thunderstorm, as rain pounded the roof of the train station. They collected all of the foreigners on the train, which consisted of my group and a small group of Singaporeans. I was surprised by how few foreigners were visiting.
We waited for a few minutes until our tour guide arrived to collect us like children at daycare. He placed a white scarf around our necks to welcome us to Lhasa, his home. We ran through the rain and piled into the back of a silver van, and off we went to our hotel for the night.
The next morning we woke bright and early and walked to the Potala Palace. It was just as stunning as I expected from the outside. We huffed and puffed our way up the steps as our guide repeated "slowly, slowly" while running ahead of us. Even after a few days in Qinghai, the altitude was killing me.
We arrived at the top and were ushered into a packed Potala Palace. I was pushed and shoved by locals and Chinese tourists alike as people clamored to get their pictures. I remember being shocked by the fact that Tibetans were as pushy as the mainland Chinese, and wondered if this was part of their culture or something they inherited from the Han.
After the Potala Palace, we headed on to the Summer Palace, which offered stunning views of the city. Just outside there was a dance performance for the Yogurt Festival. I was able to catch a glimpse between heads and spinning prayer wheels.
Tibet is complex. It will tug at your heartstrings and make you feel grateful and guilty. Tibet will simultaneously make you feel privileged and lacking.
We were invited to lunch at Lumbum's house, where we met his wife and young daughter. I couldn't get enough of the Tibetan specials, and we basically licked our plates clean. I especially loved the local rice which was both savory and sweet, and giggled as Lumbum's daughter blew bubbles at us. The only thing I wasn't a huge fan of was the yak butter milk tea, but when Lumbum told us it would help with the altitude, I chugged two teacups.
After lunch it was on to the Yogurt Festival, which was held in a giant park. We saw young women giggling over tea and beer. Locals selling crafts and food. Singing and dancing... it seemed like all of Lhasa was at the park that day.
After an hour of wandering through the festival, we made it to the Dalai Lama's childhood home; The home he escaped from in the middle of the night as he fled to India. It was bizarre to see so many Chinese tourists pushing and shoving to get a photo. Don't they know it was their government and their ancestors who were responsible for the Dalai Lama's departure?
But to them, the Dalai Lama is just a controversial political figure. A racist who hates mainland Chinese people. A bad guy who is calling for an exodus of all Han people in Tibet. At least that's what my Chinese friends tell me. Most people in China would be shocked to learn the Dalai Lama is highly respected throughout the world.
The Morning Pilgrimage
The next morning we awoke before sunrise to visit a local nunnery. When we arrived, the nuns informed us that they were closed for another two hours due to the Yogurt Festival. Near dead of exhaustion and shivering in the dark, despite the fact that I was wearing a heavy coat in the middle of summer, we waited half-asleep on the sidewalk.
Suddenly groups of Tibetans began quickly walking past us. Most of them were chanting hymns, others were spinning prayer wheels, but all of them were walking unusually fast. As the sun peeked out beyond the horizon, more and more groups walked past, all at astonishing speed.
Apparently every morning the older citizens of Lhasa embark on a daily pilgrimage to the center of the city. It's their version of Sunday mass, except it's daily and they go by foot. Not only is it a religious practice, the pilgrimage creates community and encourages a healthy lifestyle.
Prayer Flags and the Turquoise Lake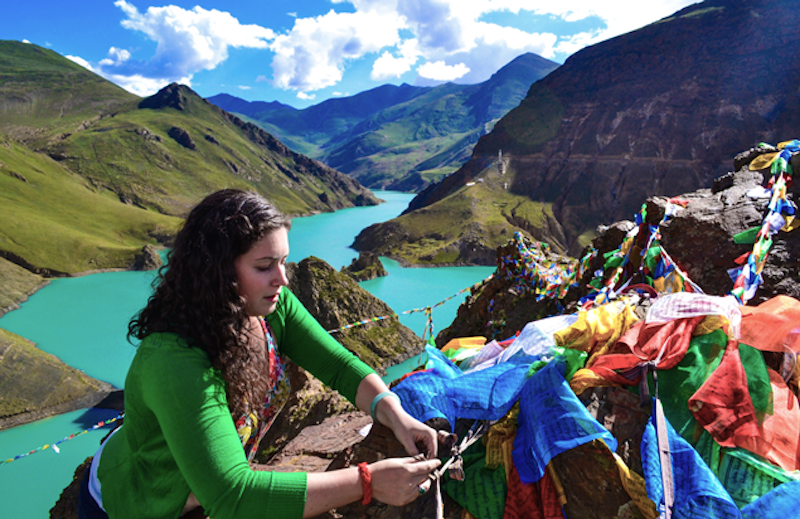 A few weeks before I embarked on my trek through Tibet, I received a comment on one of my blog posts from a woman with stage four terminal brain cancer. She had come across a post about my upcoming trip to Tibet and wanted to ask me for a favor. She was a practicing Buddhist and never had the opportunity to visit Tibet before she developed cancer. She asked me if I would leave her name somewhere special since she couldn't visit in person.
I was shocked. I felt so honored to receive such an important request. I even teared up as I read the comment. Of all people for her to reach out to… me.
The weight of his words sunk in my heart.
Fast forward a few months later, and I'm driving through the mountains of Tibet. I knew I had to do something special for this woman, but I wasn't quite sure where to leave her name. As we were winding our way through the mountains, Tibetan music blasting on the radio, I saw a few men hanging prayer flags. As we neared the pass, I noticed that it was absolutely covered in colorful strands of flags. Our guide explained that if you write a person's name on a set of prayer flags, it acts as a prayer for the health and wellbeing of that person. The higher up in altitude the flags, the stronger the prayer.
While at Yamdrok Tso, the turquoise lake, my friends and I hiked out to a far peak that was covered in prayer flags. The hike was a bit dangerous. One misstep and I could easily fall to my death, which I almost did at one point. When we finally made it to the rock, I borrowed a sharpie to write the woman's name, and hung her flags so that they overlooked the most beautiful view.
As I was tying the flags, a wave of emotions washed over me. I felt a bit entitled and privileged for having the health and ability to embark on such an amazing trip, while this woman was at home struggling with terminal cancer. I also felt so incredibly thankful and appreciative that I have the ability to leave my home country, when so many people can't. What makes me so special?
Finally I felt honored. Honored that this woman asked me of all people to complete such a special task for her. I just really wished she could have been there to see it.
The End of the Road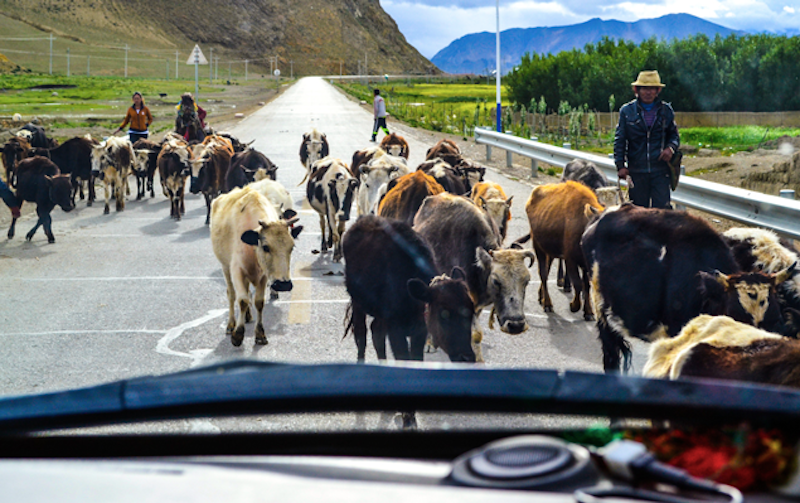 My last morning in Tibet was bittersweet. After a week of traveling to a new place every night, I was exhausted. Yet, I was reluctant to leave Tibet not knowing when or if I would ever be able to return.
As we stood in line waiting for immigration to open so we could cross the bridge into Nepal, my guide glanced at me with a sad look in his eyes. "This is always my least favorite part," he said to me. How naive of me to assume it was because he hated saying goodbye. "Don't worry," I assured him. "I'll be back to visit someday!"
"No." he explained. "I'm sad because you get to leave and I can't come too."
The weight of his words sunk in my heart. How terrible it must be to watch tour after tour come and go, and know you'll never be able to get a passport. How horrible it must feel to be fluent in English, and yet watch privileged travelers hop across a border you'll never be able to cross.
What it's Like Trekking in Tibet
Tibet is beautiful. The temples, the landscape, and the culture are all stunning in their own unique ways.
Tibet is harsh. The altitude, the environment, and the government restrictions will all challenge you.
Tibet is complex. It will tug at your heartstrings and make you feel grateful and guilty. Tibet will simultaneously make you feel privileged and lacking.
So what's it really like trekking in Tibet?
Why not go and find out for yourself.