Need-based funding, General grants/scholarships, 529 Plan eligibility, BIPOC funding
View Other Details

Program Details

Activities

City Exploring

Remote Exploring

Trekking

Housing

Ashram

Guesthouse

Host Family

Hotel

Tent

Pricing

Price Details

The cost for Nepal Semester: Himalayan Studies is $16,950 for three months. Financial aid is available.

What's Included

Accommodation

Activities

Some Equipment

Meals

Park Fees

Tour Guide

Transportation

What's Not Included

Airfare

Travel Insurance

Visa
31 travelers are looking at this program
Trek in the shadows of the world's tallest mountains, study Buddhism and practice meditation at a monastery, and learn a traditional craft with Dragons!
At the heart of the Himalayas, Nepal is a melting pot of cultures, languages, and beliefs. For a month-long urban homestay we explore the cultures and traditions of the Kathmandu Valley. We will meet with local activists and scholars to learn about the remarkable country. During that time you will have a chance to mentor with a local expert of your choice, examples include: Ayurvedic medicine, cooking, comparative religion, gender issues, traditional painting. The trip will continue to the mountains for a two week trek to the remote corners of the country followed by a rural homestay where we will learn about traditional farming practices.
Dragons Himalaya students with dive deep into the cultures and religions of the region all while practicing self-awareness and reflection.
Dragons defines responsible travel as travel that is culturally conscious, environmentally responsible, and focused on developing meaningful connections and mutual respect in the communities to which we travel. Over the course of Dragons 25+ year history, we have cultivated long-standing relationships with respected community leaders, academics, social entrepreneurs and professionals involved in environmental and cultural preservation. In the more than 20 countries in which Dragons has operated, we have steadfastly adhered to minimum impact travel, an accurate and informed understanding of place, and the realization of maximum benefit for the communities we visit.
Dragons believes that we need to shift the way we think of volunteer travel. Instead of focusing on "service work"—on the idea that short-term volunteers can contribute to communities abroad—we advocate a paradigm shift: we choose, instead, to focus on "learning service."

Learning Service is a holistic experience that combines an intimate and authentic engagement with the local community, the study of effective development, and the contribution to an established community-driven project. It is the process of living, working alongside, and humbly absorbing the culture of those being served while coordinating closely with project managers to understand the trajectory of the project, from inception to completion and beyond. It is an acknowledgment that often it is the volunteer who stands to gain as much or more from the work. And it is a commitment to making contributions that create positive impacts in the communities coupled with the humility to always listen and learn first.
Program Highlights
Spend a week at a Tibetan Buddhist monastery to learn about Buddhist philosophy and meditation and inquire deeply into the daily practices of Hinduism with homestay families and other local friends.
Embark on a challenging 2-week trek through rugged parts of the Himalayas in remote areas, with an additional mini-trek and day hikes throughout.
Spend 4 weeks in urban homestays in the ancient city of Patan, located in the heart of the Kathmandu Valley. Live in a rural homestay for up to 2 weeks while learning about local cultures and traditions.
Month longer mentorship with local experts in fields such as ayurvedic medicine, mask making, yoga, dance and singing, women's issues, comparative religion, jewelry making and much more.
Examine issues of health and education, human rights, environment and land use, globalization, the caste system and poverty.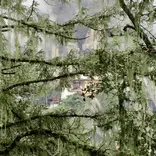 Explore a Himalayan kingdom during this 10-day semester extension program. Travel to vast and ancient landscapes, examine Buddhism and sustainability with monks and environmentalists, and hike to sacred cliffside monasteries.
Where There Be Dragons Financial Aid & 529 Funds
Where There Be Dragons offers need-based financial aid to students that demonstrate reasonable financial need and are excited to engage with communities around the world.