View Other Details

Program Details

Timeframe

Fall

Spring

Summer

Winter

Year Round

Housing

Apartment

Host Family

Pricing

Price Details

Contact Connect-123 for Cost Details

What's Included

Some Activities

SIM cards
0 travelers are looking at this program
Connect-123 offers a wide range of international entrepreneurship internships. In Cape Town, Barcelona, Dublin, Sydney, Shanghai and Buenos Aires, Connect-123 facilitates placements in start-up businesses, micro-franchisees, and centers of entrepreneurship that support and incubate fledgling business.
Entrepreneurship projects may include helping local entrepreneurs improve operations and logistics, assisting start-ups with new business development, strategic planning for fast-growing technology companies and mentoring rising entrepreneurs from disadvantaged communities.
We identify the right host organization for you and tailor an internship project that draws on your unique skills and expertise while delivering real social impact.
Contact us today and start paving a path towards your entrepreneurial career!
Program Highlights
Impress future employers with a professional internship within an international setting.
Acquire new skills and develop existing ones while working for a local business or entrepreneur.
Interns gain direct work experience to boost any resume.
Participants can take advantage of the activities and opportunities in the city including soccer games, dance performances, street shows, museums, and theater - some may be included in organized excursions through the program.
Full support of Connect-123's staff both pre-departure and on-site, helping with placements, cultural activities, and emergency assistance.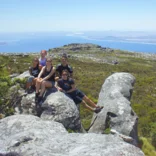 Looking for a challenging project management internship opportunity? We can facilitate a wide range of opportunities, from engineering to IT to construction, and more.