View Other Details

Program Details

Compensation

Non-Monetary Benefits

Timeframe

Academic Year

Fall

J-Term

Maymester

Spring

Spring Break

Summer

Winter

Year Round

Housing

Apartment

Host Family

Pricing

Price Details

Contact Connect-123 for Cost Details

What's Included

Some Activities

SIM cards
International business relations, entrepreneurship and start-up strategy, business consulting, and economics and microfinance are just some of the business-related internship opportunities abroad that Connect-123 provides.
We offer business-related internship placements in Barcelona, Buenos Aires, Cape Town, Dublin, Sydney and Shanghai in a wide range of areas, including venture capital, micro-finance, marketing, and entrepreneurship. Opportunities include assisting local entrepreneurs grow their businesses, creating market research reports, developing financial models, and working with strategy consulting firms. Our local staff provide on-the-ground support before, during, and after your internship including housing assistance, in-depth orientation, social events, cultural activities, as well as career support and guidance.
Academic credit available.
Contact us today to kickstart your application for a business internship abroad!
Program Highlights
Tailored placements! Connect-123's experienced team finds unique, best-fit opportunities for you, related to your interests, goals and requirements.
Extensive Network! Connect-123's partner network includes entrepreneurs, human rights organizations, engineering firms, advertising agencies and many more options!
Flexibility! Choose your arrival and departure dates, based on your schedule.
Service! From pre-departure to in-country support to post internship assistance, Connect-123 provides you with all the support you need!
Memories! Meet new friends from all over the world and make memories to last a lifetime!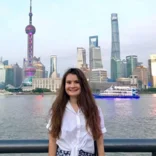 Make a meaningful impact at a global level and stand out from the crowd with an Economic Development internship abroad!