19 travelers are looking at this program
Join a marine conservation or community development internship in Fiji, an archipelago of over 300 islands. Did you know that a large percent of the world's coral species are based in Fiji, totalling over 43 percent? Despite the country's vast number of coral reef ecosystems and incredible diversity, Fiji's marine life is threatened by climate change, pollution, and overfishing.
Be part of the GVI journey to make a sustainable impact and contribute to the preservation and research of these vulnerable ecosystems in Caqalai. Or focus on community development initiatives and travel to a GVI base in Dawasamu, a remote district. There you will contribute to improving the quality of resources for education by supporting local teachers as they conduct environmental workshops, and assist with agricultural and women's empowerment projects.
Your contributions align with the UN Sustainable development goals (UN SDGs) and adhere to a strict Child and Vulnerable Adult Protection Policy.
Program Highlights
Earn an ILM Leadership Certification, or gain a PADI dive qualification to add to your CV.
Make measurable sustainable impacts in marine conservation and community development in the Caqalai and Dawasamu districts.
Learn about different cultures, and taste traditional ethnic cuisines.
Meet people from around the world who share similar passions.
Contribute directly to the 17 UN SDGs.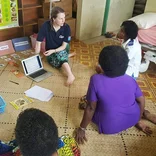 This multifaceted program provides you with the opportunity to get involved in a number of community development initiatives. Support health awareness practices, such as WASH (Water, Sanitation, Hygiene), assist with education workshops, work alongside community members to encourage income generation, and contribute to environmental preservation and sustainable agricultural practices. When you aren't working, explore the mountainous surroundings of Dawasamu.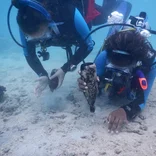 Join an extensive training program to earn your PADI Divemaster, and expand your knowledge of marine species, ecosystems, and coral reefs in Caqalai – a palm-lined island with blue warm waters. You will spend the majority of time on dive expeditions, and assist with day-to-day operations at a local dive center. Add to your CV with practical experience, developed skills and qualifications, to improve your career pursuits in marine conservation.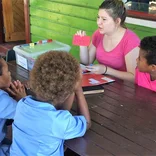 Gain TEFL experience in Fiji, Dawasamu, teaching local youth, and earn an ILM Leadership Certificate. Improve your lesson planning, classroom management, and facilitation skills while also supporting local teachers to provide higher quality education to local children. You will work alongside GVI partners to teach literacy, phonics, and plan physical education, art, and music classes. You could also get involved in workshops, sustainable gardening, and facility renovation projects.