19 travelers are looking at this program
Enhance your CV, skills, and future conservation or international development career opportunities by joining a GVI internship in Puerto Morelos, a Mexican Caribbean town. With bursts of color between clear blue shoreline waters and diving grounds, this is an ocean oasis beach town.
Home to the Mesoamerican Barrier Reef System, the second-largest in the world, you can join a marine conservation program to assist in preserving coral reefs, collect vital data on marine life for local organisations, and gain various PADI diving qualifications. Or, if you join an international community development program, you will partner with Save the Children to assist with education initiatives for youth and adults, improving your teaching abilities, lesson planning, and classroom management skills at the same time.
GVI aligns all objectives with the UN Sustainable Development Goals, and has a Child and Vulnerable Adult Protection Policy in place to maintain ethical best practice.
Program Highlights
Snorkel and dive in the Mesoamerican Barrier Reef System and practice your conversational Spanish.
Improve your CV and enhance your career opportunities with further developed skills and first hand work experience.
Learn about ethical and sustainable practices aligned with the UN Sustainable Development Goals.
Meet like-minded participants from around the world, and travel together to Riviera Maya, South of Puerto Morelos, to relax on one of many white sand beaches.
Earn PADI diving qualifications, or contribute to the development of child motor coordination skills, and health awareness.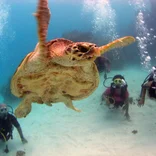 In Puerto Morelos, earn your PADI Coral Reef Researcher Distinctive Specialty certification and kickstart your career in marine conservation. You will have the opportunity to explore the Mesoamerican Barrier Reef System, the second-largest in the world, with other participants from around the world. Collaborate with GVI staff and partners to develop skills in diving, coral and fish identification, underwater survey techniques, and assist to restore coral fragmentation onto the reef.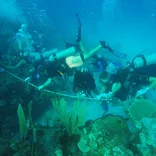 Take the next step in your PADI diving journey by becoming a qualified PADI Instructor. You will train alongside expert marine conservationists and gain hands-on experience during your work placement at a local dive center. Conduct surveys, research and collect data on marine life found in the Mesoamerican Barrier Reef System, the second-largest in the world, and assist to plan and lead dives.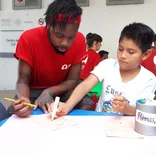 Collaborate with Save the Children, to develop your skills in education and sustainable international development. By working alongside a global non-profit organization, you can learn how to fundraise for similarly structured organizations, while also mastering your skills in lesson planning, teaching, and classroom management. This is an internship program with the opportunity to practice your conversational Spanish too, or book in-country Spanish language lessons.