Disease Ecology & Wildlife Management Field Practicum in South Africa
View Other Details

Program Details

Qualifications

Pre-Vet, Animal Science or Wildlife Management majors
Good standing with home college or university
Rising senior (undergraduate), or first year graduate student
At least 18 years old
Minimum 2.7 GPA
Completed at least two semesters of related coursework

Pricing

Price Details

OTS offers scholarships to students help minimize the financial impact. Contact us with questions field.practicum@tropicalstudies.org

What's Included

Accommodation

Meals

Wifi

What's Not Included

Activities

Airfare

SIM cards

Travel Insurance

Visa
5 travelers are looking at this program
In partnership with South African National Parks, this field-based practicum focuses on disease ecology, wildlife management, and applied veterinary epidemiology in and around the Kruger National Park. Run with local veterinary scientists, it is designed to provide participants with direct insights into current challenges faced by wildlife conservation in South Africa and veterinary health care in resource-poor, rural agricultural areas. Interactions with field veterinarians and extensive experience in practical and theoretical disease research are key focuses. Land use changes and global climate change could have significant effects on disease epidemiology across a broad range of taxa. This program is designed to provide students with training in techniques for monitoring disease in different vertebrate taxa across land use systems. It will also provide field research experience relevant to conservation and make a contribution to long-term epidemiological monitoring.
Program Highlights
Conduct research in Kruger National Park, South Africa's largest and most famous national park
Monitor disease in different vertebrate taxa across various land use systems
Contribute to long-term epidemiological monitoring
Understand the challenges wildlife veterinarians face in Kruger National Park
Rub elbows with wildlife managers, field veterinarians and conservationists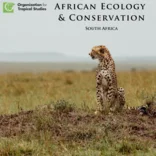 Six weeks not enough? Join OTS for a full semester of savanna ecology, conservation, and South African history and culture as you dive into this popular field program.