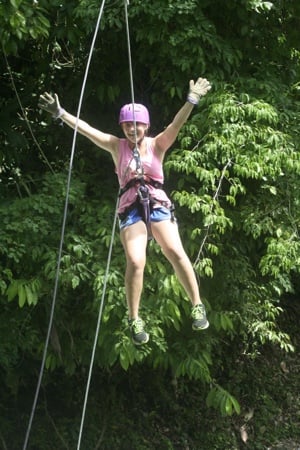 Why did you pick this program?
I picked this program because it combined my want to gain experience in the medical field with my desire to explore a new country. Being a biology major, I thought that I wouldn't be able to find a program that wouldn't set me back in my credit hours but by finding this program, I simply opened up more doors for my career.
What do you tell your friends who are thinking about going abroad?
That the opportunity is truly life-changing. The experience that you gain while abroad is like no other that you can gain at your home institution. Studying abroad opens up your eyes to new cultures and ways of living.
What is one piece of advice you'd give to someone going on your program?
Don't hesitate to immerse yourself completely. It's natural to be shy when you enter your new country but by embracing the new way of life, you are missing out on so much! Simply taking the time getting to know your host family and to be open to trying things whether it be food, activities or the language can make your experience that much better.
What's your favorite story to tell about your time abroad?
I always love to tell people about my time rappelling down waterfalls. When I heard about this opportunity while in Manuel Antonio I immediately jumped at it and the thought of this unique opportunity. In order to get to the waterfalls however, we had to go up a mountain, through a rainforest in the back of a pickup truck. Although we were sitting on benches that had been built into the bed of the truck, my heart was still racing by the time we got to go to the top. Finally, it was time to go down the waterfalls. We were told that we were going to go down 5 waterfalls, each increasing in height. The first couple were not very tall as they were to get us accustomed to the proper form and to fully trust the harness that we were in. By the time we were going to go down our final waterfall, the height was 55 meters tall!!! As I started to go down, I suddenly realized I couldn't really move my head to look around as the shear force of the water was blinding so I had to just look straight ahead at the rocks and make my way down the waterfall. By the time I got down to the bottom, the exhilaration I felt was incredible. I will never forget the rush and sense of pride that I felt when I looked back up to the top of the waterfall.
What was the most important thing that you packed and one thing that you wished you packed?
I didn't realize it at the time but packing a new pair of tennis shoes was one of the things I was most thankful for by the end of my trip. During the day, I walked all over San Jose and just by having those shoes allowed me to go through the full day without my feet hurting. y one regret of this trip was that I didn't bring a better camera. I thought that I could take all my pictures with my phone and wouldn't have any problems. Although my phone was good of all the crazy pictures with my friends, it didn't capture the pictures of the beautiful landscape well enough in my opinion.