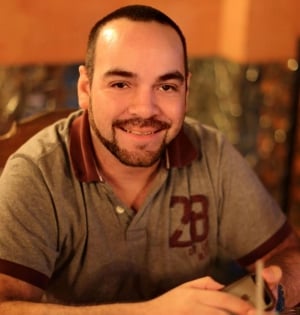 Did YOU study abroad?! If so, where and what inspired you to go?
I've always been passionate about foreign languages. When I was in high school, I started learning English and French simultaneously and I knew that I needed to spend some time abroad in order to learn these languages better. At ages 16 and 17 I was lucky enough to travel to Oregon and France in two different exchange programs. And that's where it all began. While my initial inspiration to travel might have been only my interest in improving my language skills, soon after returning home, I realized that I had learned so much more. I was inspired by the wonderful people I had met. I quickly learned that life is a common experience, and I felt the urge to seek out people with different views of the world and to get to know their side of the story. That became my mission. Later, I managed to do a year-long study abroad program in Iowa, which then catapulted me into pursuing a master's degree in Illinois and a few jobs overseas. Studying and eventually living abroad is definitely an investment in yourself.
What position do you hold at CEA? What has been your career path so far?
I'm the Academic Director for CEA Costa Rica. I obtained a bachelor's degree in English as a Foreign Language from the University of Costa Rica, and a master's in Teaching English to Speakers of Other Languages (TESOL) from the University of Illinois at Urbana-Champaign. Prior to joining CEA, I spent more than 15 years in the field of TESOL as an instructor, teacher trainer, curriculum developer and administrator in Costa Rica, the United States, Turkey and China. CEA, however, represents one of the best jobs I've ever had. I love how multidimensional my position is—from program development to working with our university partners and advising students, there's never a dull day at CEA. The best aspect of my job, however, is the day-to-day interaction I get to have with our students. I'm happy I have the opportunity to help them make the most out of their experience in Costa Rica. I am sure I will work in international education for the rest of my life.
How have you changed/grown since working for your current company?
Having studied and worked abroad on several occasions, whenever I see students at CEA doing homework or making plans for the weekend, I start reminiscing about my time abroad. I often think of all the amazing people I met who offered a helping hand either through a conversation, an invitation or simply by listening, and I'm thankful to be in the position where I can "return the favor", However, this is a two-way street, and I've learned just as much from our students, which has been very humbling and rewarding. I've discovered that everyone everywhere basically wants the same thing. We all strive to reach our goals and fulfill our dreams. I've found that you can learn more from people than from the TV or a book. I'm so glad that I've grown in ways I had never imagined thanks to every single student, faculty and visitor that I've had the privilege to meet.
Describe a time when you felt especially proud to be part of the CEA team.
Studying abroad is exciting, but it can also be challenging. It is sometimes inevitable to experience culture shock and homesickness. I remember two different students on two different occasions who felt this way to the point of wanting to give up and go back home. They both had made up their minds and had told us that they wanted to leave the program early. As the onsite staff, we took the time to speak with the students about their feelings. We listened carefully and gave them all the support they needed. We explained how much they would be missing out on if they went home early. After long chats, and some tears, both students were convinced they had to, and wanted to stay. They each finished their semesters very successfully and happily. What's more, after returning home they both became CEA Alumni Ambassadors at their respective home schools! They now not only promote our programs, but also encourage their friends and peers to study abroad!