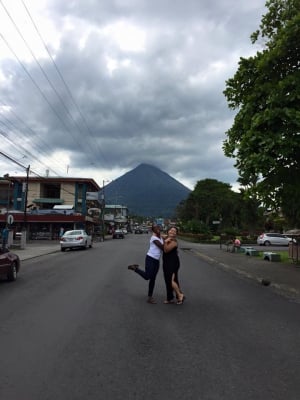 Give us a little intro
Priscilla is an International Studies major, minoring in Spanish. She is from Los Angeles, California and loves to take photographs of people in their most candid moments.
Why did you pick this program?
I picked CEA San Jose, Costa Rica because I wanted to experience a different setting other than my home. I was very keen on learning more about this eco-friendly country.
What do you tell your friends who are thinking about going abroad?
When people ask me about studying abroad I tell them, "do it now, while you can". I believe it is the most rewarding experience you can have in your college career.
What is one piece of advice you'd give to someone going on your program?
I think the most important advice I can give is to take a language course. The experience as a whole is different when you immerse yourself in the language, giving you a direct entry into the culture.
What's your favorite story to tell about your time abroad?
My favorite part of the experience was living with a host family. On Friday nights the host family would blast salsa music and dance the night away. One of my favorite memories is a silly photo of my host mom and aunt singing, dancing, and cooking.
Pricilla's Tips for Costa Rica:
Packing: Costa Rica is a diverse country where you can get from one side to the other in less than 10 hours. Definitely be prepared for rain, humidity, and wind - having a rain coat and umbrella on hand is always helpful! Must-haves for your packing list should include comfortable shoes for hours of walking, a day-pack for hikes or weekend trips, a good hat for protection from the sun, a reusable water bottle, bug spray, and sunscreen. It's also nice to have a bit of formal wear in the case of a special occasion.
Safety: While Costa Rica is a relatively safe country, it's always a bit safer (and more fun!), to travel with a partner. ATMs are readily available around the country, however in using them, you may put yourself at risk for stolen information or fraud. To avoid repeated ATM trips and the risk of losing my card to one, I kept enough cash on hand to last a month at a time. Purchasing a local SIM card is helpful, and I suggest saving the number for the taxi company in your phone. Uber operates in Costa Rica as well!
Costs: Costa Rica can be a bit pricy relative to other Central American countries. I suggest to avoid purchasing any toiletries or personal items - shampoo, razor blades, tampons - in the country. I easily spent $100 USD per week while traveling, and small costs can quickly add up. Do a bit of research before hand on average costs, and budget accordingly. One last tip - if you enjoy nightlife, be sure to ask about daily specials on entry and drinks at the bars and clubs.
Most importantly, have fun!