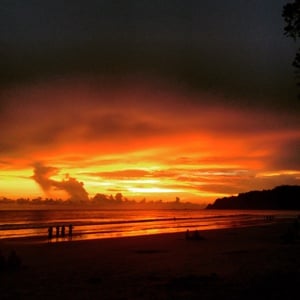 Why did you pick this program?
I chose to travel with CEA, because, truthfully, I didn't know there were that many other program choices. I was very lucky to accidentally choose CEA, though, because it is such a comprehensive and high-quality company! I loved the study space and the faculty at our program offices, and the two group excursions were a great way to get to know everyone. Overall, a very well-planned-out program that helped me adjust to my first experience studying abroad.
What do you tell your friends who are thinking about going abroad?
I tell them that there are no downsides! There's something for everyone to learn when you study abroad, and you'll never feel the same after you've been abroad and TRULY experienced another country. It's different from anything you've ever done, and you still receive college credit! What more could you want?
What is one piece of advice you'd give to someone going on your program?
Do some research on the country before you go. Know where you want to visit and find out if there are any very popular destinations (such as Cerro Chirripó or Corcovado) that require reservations ahead of time. You'll waste a lot less time if you have a list of possible excursions for every weekend.
What's your favorite story to tell about your time abroad?
I traveled to Manuel Antonio with a few friends from my program, and it was my first time traveling by bus in Costa Rica. Our hostel was beautiful (Hostel Plinio), we took the local bus down to the beach, and we spent the afternoon in the salt water and in the sand. The sunset was absolutely amazing, and I took pictures of everyone's silhouettes in front of the sun and the orange reflection in made on the ocean waves. Afterwards, we joined some locals in a game of frisbee. The whole afternoon was like something out of a cheesy, girls getaway weekend movie, but it was amazing to live in such a picturesque scene.
What was the homestay like? Is it better to live independently?
I was dubious about having a homestay, only because I had a bad experience with one in the past (not with CEA, but through a different program). However, I think having a homestay family is one of the most valuable parts of studying abroad. My family offered me a casual environment to practice my Spanish, and really helped me warm up to the Costa Rican culture. I don't think studying abroad would hold the same significance in my mind and I don't think I would truly feel a part of the culture if I had not had a homestay family.