Why did you choose this program?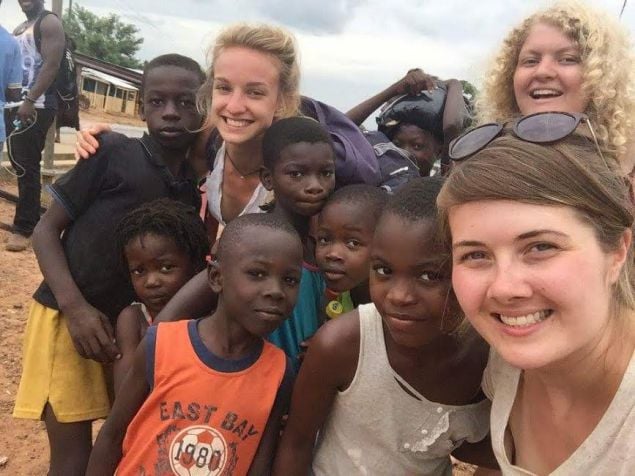 I chose to go away with Plan My Gap Year because it was my first time traveling alone. PMGY offered fantastic prices and projects that happened to be exactly what I wanted to do. Staying in a volunteer house rather than with a host family also attracted me to PMGY because I was keen to meet other like-minded people and meet friends that I could discover more of Ghana with on the weekends.
What did your program provider (or university) assist you with, and what did you have to organize on your own?
Plan My Gap Year is such a supportive company! They sort all of your food, accommodation, airport pick up, visa invitation letters and so much more. You can also buy your insurance through them which is very cheap and saves you time on paper work.
All I really had to do for myself was book my flights and apply for my visa, but even then they offer you a quote for your flight price. Their volunteer handbook has step by step instructions for the visa application, so really it would be hard to get any of it wrong!
What is one piece of advice you'd give to someone going on your program?
I think the only piece of advice I would have would be to immerse yourself in the experience! You get out of these things what you put into them, and if you give it all you've got, I can promise you a life-changing experience.
It can be intimidating working with so many children under the judging eyes of the orphanage mothers, but really they all want what's best for the children. Just let the mothers know what you want to accomplish with the kids, and they will recognize that you are really there to help and give you a lot more freedom.
What does an average day/week look like as a participant of this program?
The average week as an orphanage project volunteer is actually very flexible. You can volunteer as many or as few hours as you like, but as I said... you get out of the experience what you put into it. I would wake up at around 8am, shower, get breakfast and then leave for the orphanage at around 9am. We worked this out to be a good time traffic wise, as well as arriving when we could be of help at the orphanage.
We would work with the children all morning, usually playing games, cards, clapping rhythms or a little bit of teaching. We would have our packed lunches at the orphanage at around 1pm. Then go back to the kids in the afternoon and help to change the kids that had come in from school and attempt to tire them out!
We would then get the trotros home and spend the evening playing games, watching films, and getting to know other volunteers. I must admit that we had some of our most memorable evening sat on the porch with some music and good conversation. We also ventured to the Cultural Centre through the week after placement, this is where you buy your souvenirs and get to see some of the beautiful products that the Ghanaians make, all handmade and authentic.
On Thursday mornings we would get up a little earlier (around 6am) to go and play a football match against the local team. This was always great to watch and it was lovely to meet some of the players. After this we would go somewhere local for breakfast and then head back to our projects. Throughout the week we were also offered many opportunities to help the community in other ways, such as painting a room at the local school.
These extra opportunities are what make you feel like you have truly made an impact and my advice would be to do as much as you can.
The weekends could be spent however you wish but PMGY does offer some fantastic trips that are great value for money and well organized, so you get a lot packed in! I went on both of the trips they offered while I was there, one to Cape Coast and the other to Mole National Park. Both of which I would do again at the drop of a hat and would definitely recommend.
Going into your experience abroad, what was your biggest fear, and how did you overcome it and/or how did your views on the issue change?
If I'm honest, my biggest fear was that I might get homesick. I was 17 when I was traveling and the thought of doing it all by myself really excited me, but also worried me slightly.
I can tell you that I needn't have worried! I made friends for life in Ghana, both with volunteers and the locals. It was like a huge support network, we were all volunteering together, working together, laughing together and inevitably crying together. I didn't think I was possible to to become as close with people as we did in such a short space of time. The local people were absolutely amazing and did everything they could to make you feel welcome.
I spent a couple of my evenings helping a local woman to cut the peel off the oranges that she would sell. She was fantastic to talk to, and even with the difficulty of the language barrier, she put so much effort into her expressions that we could understand each other and had a great laugh trying to communicate along the way!