Why did you decide to volunteer with African Impact in Zambia?
Kayla: The reason I decided to volunteer overseas was because I had always wanted to volunteer and have an chance to give something back. After consulting with a friend from college we decided to go volunteer together and thus began our research to find the right program for us. A friend from high school had recently been involved in a volunteer program so I messaged her for more information which is how I found African Impact. After reviewing their website and the various programs they offer I felt confident in the organization and decided to send them an enquiry. The knowledge, accuracy and information on the website was really helpful and most questions could be answered through the website.
Describe your day to day activities as a volunteer.
Kayla: Day to day activities vary but the basic schedule is the same. Every morning there is a house meeting at 6:45am. Here the manager, or intern in my case, goes over the board on which the days tasks are delegated.
The first activity begins at 7am and, depending on your task, a handler will come to the house and meet you to take you to workstation whether it be the Lion Enclosure, Meat Prep area, Bush or perhaps onto a vehicle if you are heading to a different site. Each activity your are placed on always has handlers or guides and sometimes management members so there is always someone to teach you, help you, answer questions and just have fun with.
The first session is approximately 2 hours long and once complete you return to the house for breakfast cooked by the amazing house chefs. Second session begins at 10am and follows the same pick up/meeting arrangement with the handlers and lasts again approximately 2 hours. Occasionally you may have a double morning session where you will receive a packed breakfast, for example Dambwa Research you have lunch at the Boma on the Dambwa Release site grounds or if your are teaching at Maunga school on a Saturday Morning packed breakfast is provided.
After lunch the last session begins at 2:30pm again being collected by a handler and heading off to your workstation. This again lasts approximately 2 hours when you return to the house for dinner at 6pm.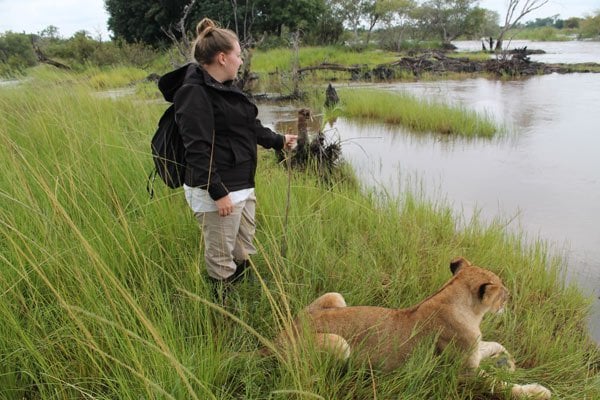 The evenings are free however if staying at the house there are limited grounds you can roam freely due to living within the national park and the fact that wild animals are roaming as well. Taxi's can be arranged for trips to town, our for dinner, optional excursions etc. There is also security at the house that can escort you to/from Bristol (another lodging area) or Thorntree Lodge (Guest lodge next door with a great deck and bar). There is also a TV with DVD player in the lounge and some board games for the evenings or free time.
The various task you could be doing are Lion Walk, Client Lion Walk, Training Lion Walk, Meat Prep/Enclosure Cleaning, Enclosure Maintenance, Behavior Enrichment, Dambwa Tour, Dambwa Research, Dambwa Enclosure Cleaning, Elephant Research, Lesson Planning, Conservation Club (teaching), Children's club (teaching), Tour of Tour, Town and Snare Sweeping. Of course there may be times when you have a session off or are away doing optional excursions.
What made this experience unique and special?
Kayla: I think the people of Zambia have truly made this experience unique and special as all the handlers and guides were local Zambians and each of them make you feel welcome and part of the team, they are very friendly and encouraging as well. They are also very knowledgable on both their own and other countries so make sure you know facts about your own country as they will definitly ask.
The general public of Zambia that I had the chance to see were always friendly and said hello even when passing in the streets and those that ran the optional excursions were also great. Even the school children were very polite and eager to learn.
Not only locals made this experience special but the Management at Lion Encounter were also very welcoming, answered any questions you had, helped book tours and were a fun crowd.
Last but not least the other volunteers. There were 5 of us that arrived on the same day and we got on well which helped since I was traveling solo I knew I had people to do optional activities with, go for drinks or dinner etc. There were also some University students on site doing research who were locals but amazing people, so friendly, fun and encouraging. I can't not mention the amazing 7 Lion cubs I was able to work closely with and get to know, they could be doing absolutely nothing and bring a smile to my face!
How has this experience helped you grow personally and professionally?
Kayla: This experience has impacted my future in many ways. It has made me look at life in a new light. Seeing how other people live with perhaps not as much as we have in the Western world really made me appreciate not only what I have but what I need. It really showed me that I can get by with the basics and still have fun, be happy and enjoy life. Through learning about the Lions themselves and the decrease in population it has opened my eyes to the need of this program and the value of the outcome of its success.
Professionally, being a travel and tourism college graduate, I have been able to see the direct influence of this industry to the economy of Zambia as without tourism the country would not be where it is today. If this program didn't exist and as a result the lions become extinct in Zambia the country will financially suffer through the loss of tourism as safari game drives and seeing African Lions is one of the major attractions of this country. Through this experience it makes me want to do more to encourage travel to the area and help promote the need of the Lion Rehabilitation Program and its success.