Why did you decide to volunteer with UBELONG in Vietnam?
Ai: I heard about UBELONG through a friend of a friend (essentially a stranger), which is not always a reliable source, but I decided to go for it and apply to the program in Ho Chi Minh City, Vietnam. I wasn't sure what to expect, but from the very first email that UBELONG sent me, I could tell that I had made a good choice. They were so helpful, attentive, and supportive, even connecting with me on Skype to make sure that I was adequately prepared to embark on my journey. They talked to my parents, answered all my questions, and calmed some of my fears before I left to immerse myself in a new culture. I could not have been more satisfied with the way UBELONG guided me through!
Describe your day to day activities as a volunteer.
Ai: In Ho Chi Minh City, my day-to-day activities included: grabbing a home-cooked breakfast, catching the bus, teaching an English class at a local elementary school in the city, eating lunch, going to another site to teach English to local volunteers, then coming back home and taking a rest. Some days I would also have a Vietnamese lesson, where the same volunteers would teach me common phrases in their language. Usually I would have one day off per week, and I used the weekends to travel out of Saigon to the Mekong Delta, to Da Lat, etc. It was very easy and cheap to plan such tours, which were typically bus tours with food and hotels booked in. During the evening hours, I often met up with my fellow volunteer teachers at a nearby cafe to relax while brainstorming ideas for the next day's lesson.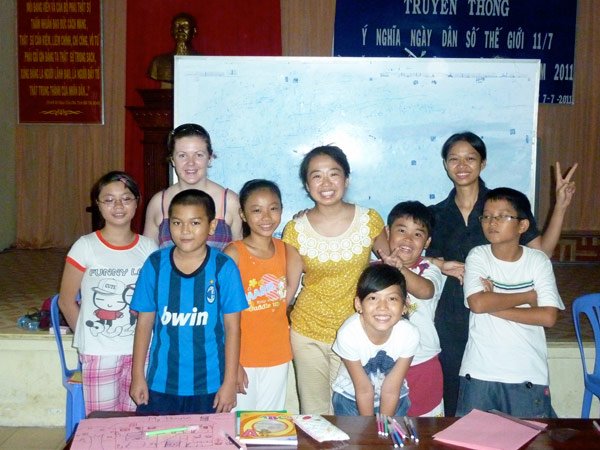 How has this experience impacted your future?
Ai: In high school, I had dreamed of volunteering abroad, but I never thought that I would be able to do so. I love kids, I love to volunteer, I love to teach, and most of all, to travel. Being a bilingual first generation Asian American, I have always been fascinated by new languages and cultures. On this trip, not only did I have the chance to learn about Vietnamese culture, I also made friends with the other international volunteers from Britain, France, Ireland, and Australia. I was proud because I even had several chances to correct European stereotypes about Americans.
The month I spent in Vietnam was not only an eye-opening experience, but it was also a push for me to grow as a person. At home amongst my peers, I was relatively shy and reserved, keeping my thoughts and opinions to myself. Being a role model to the children and a cultural ambassador with the volunteers, I found myself becoming more confident and outwardly compassionate. I learned how important it was to express yourself, to have an open mind, and to love! What makes us fundamentally human is our ability to think, share, create, and of course, to change; although I feel as though I am still in the process of self-discovery, my experience in Vietnam definitely put a whole new perspective on my true self. I am eternally grateful for UBELONG and all of the people I met in Ho Chi Minh City for such an incredible trip!