Why did you decide to volunteer with UBELONG in Vietnam?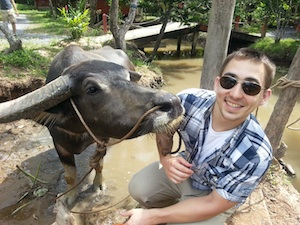 Robert: I chose UBELONG because of how affordable its immersion programs are and the fact that individuals from any background can participate in their programs. I have always wanted to do volunteer work abroad, but the cost of programs offered by other organizations always turned me off. I felt that volunteering shouldn't have to be so expensive. UBELONG makes volunteering accessible to almost anyone by offering programs that vary in cost depending on how long you want to volunteer overseas.
The profiles of founders Raul Roman and Cedric Hodgeman convinced me that UBELONG was an organization truly committed to international development.
Describe your day to day activities as a volunteer.
Robert: My project was at a Buddhist monastery called Chua La, where the monks provided housing for fourteen orphaned children. Only one woman cared for all fourteen children. The immense amount of work she had in caring for the children made our work as volunteers very important. We arrived at our project in the morning where we were greeted by the children that were always so happy to see us. The mornings consisted of us playing with the children and keeping them occupied on projects like coloring or singing and dancing. I would also do some renovation work on the orphanage, such as painting it and putting screens on its windows.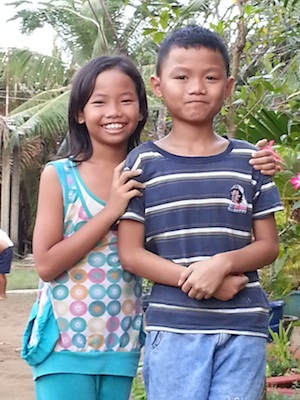 I also spent many hours in the hot sun planting a garden. Every day before noon the monks would ring a bell to indicate it was time for lunch. We would go inside the monastery and eat alongside the monks, orphans, and other guests. Afterwards we would nap for a few hours since it was the hottest time of the day. In the afternoon, we would finish whatever renovation projects we had for the day and spend more time with the kids. We left usually around 4:00PM.
What made this experience unique and special?
Robert: The opportunity to travel and do work in Vietnam is one I will always remember and cherish. The most unique part about my trip was working among Buddhist monks at the orphanage. Passive monks in their saffron robes are one of the most distinctive images people imagine when they think of Southeast Asia. Working and eating with them was something I never imagined I'd be doing!
How has this experience impacted your future?
Robert: Volunteering abroad tests what you are truly capable of by placing you in an environment that is completely foreign to you. My experience helped me learn more about myself and has given me more courage to step outside of my comfort zone. Career wise, my goal is to work in the field of international development, so having experience travelling and doing work in developing nations is important to my own career development.