Morning: After a leisurely breakfast of banh mi with peanut butter and fruit, with my housemates trickling in and out of our common dining area, and a refreshing cool shower, I'd head off around 9:30 on my rented motorbike for work. By bus I lived about an hour away, on a bicycle, about 30 minutes, and on motorbike, about 15 minutes. Once a week I'd go an hour later, after my Vietnamese lesson, which was provided free of charge by a local volunteer. I worked in a small office with 4 other women, 3 Vietnamese and 1 American expat. I worked in the research department of a local public health organization, and primarily assisted with writing reports.
Afternoon: At about noon, my little office would get a phone call that it was time to head upstairs for lunch with the rest of the organization. We almost always ate together with the rest of the company in the conference room, but on special occasions we went out to both small and large local restaurants.
After lunch, the other expat and I would go and get Vietnamese coffee at one of the local shops, then return to the office for several more hours of work. At about 5:30, I headed home through the traffic of Hanoi on my bike.
Evening: After getting home, I usually had a few minutes of rest in the air conditioned common room, and then would eat dinner with the rest of my housemates. We then would either wander down the road for a drink at a bar in our little village, watch TV, play card games, or work on our respective projects.
On the weekends we either took trips to other areas of Vietnam, such as Sapa or Halong Bay, or we would stay at a favorite hostel in the Old Quarter and enjoyed going out for dinner, dancing, and live music.
Highlights: The highlight of my volunteer experience probably happened the first weekend, but it is exemplary of the general interactions I had with the organization I was with. The first day that I was introduced to my volunteer organization, I was told that they were going on a company retreat to celebrate the completion of a big project, and although I didn't yet know them or have any involvement in the project, they invited me to join them and provided all of the food and lodging for the trip, and plenty of alcohol!
On Saturday we took a group walk through the nearby jungle area, saw deer and monkeys and a beautiful lake full of pink lotus flowers. During that weekend they introduced me to the Vietnamese ways of cutting back and relaxing, and I took back the drinking games to my housemates (other volunteers) and still share it with friends back home.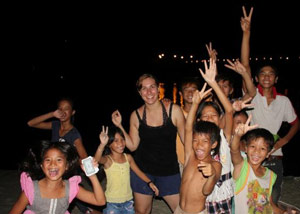 After I finished my volunteer placement, I took a two week trip with a couple of my housemates from Hanoi to Ho Chi Minh City. We stopped at several of the major tourist destinations along the way and rented motorbikes at several of them. When we stopped in Hoi An, we spent only an evening in Hoi An itself, then took our rented bikes and rode up over the Hai Van pass (of Top Gear Vietnam fame) to an isolated, island-like stretch of beach a couple hours north called Lang Co. We had initially planned to spend only one night in Lang Co, but it was so beautiful and had such a wonderful local feel that we decided to stay a second night.
We woke early the first morning to watch the sunrise over the South China Sea and played one evening with some of the local children. On our return trip to Hoi An we stopped at a place called Suoi Voi, or Elephant Springs, and spent a few hours splashing in the cool mountain spring water with other Vietnamese visitors.