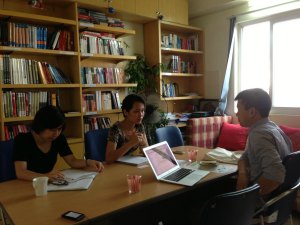 What inspired you to volunteer with UBELONG in Vietnam?
Baishi: I have always been interested in the developing world and had a strong desire to immerse myself for several months to truly make an impact. Finally having some time before starting graduate school, I found through UBELONG the perfect opportunity to work in a skilled capacity.
I was fortunate to be placed with the great people at the Center for Social Initiatives Promotion (CSIP), a social entrepreneurship accelerator based in Hanoi, Vietnam. Having worked at a technology startup in New York City, I was really interested in seeing how social enterprises could develop abroad and wanted to build capacity through applying my personal experience.
What was your favorite moment of the trip?
Baishi: My favorite moment during the trip was when I traveled to Sa Pa, a city in the Lào Cai province near the Vietnam-China border. It was there that I visited Sapa O'Chau, an organization that was a 2011 grantee of CSIP's social enterprise acceleration program. Sapa O'Chau operates with the mission of improving the lives of the local Hmong ethnic minority, turning street peddling kids into a sustainable part of the tourist economy while maintaing the traditional culture of Sa Pa.
I was lucky enough to be able to see the social enterprise up close and interact with the Hmong guides who were employed by the organization. It was there that I truly understood the importance of social enterprise and the individual lives that are touched through these organizations.
Tell me about one person you met.
Baishi: I was really happy to meet Nam, the founder of Dichung, a ride-sharing social enterprise part of CSIP's 2012 accelerator class that was meant to address the congestion and ride sharing issue in Hanoi. He was a former investment manager who felt that it was much more meaningful in life to be solving problems that many people could benefit from. I was really impressed with his broad vision and high standards for success and wish him the best in his goals.
What was the most challenging part of your experience?
Baishi: Working in an office in Vietnam was a definite culture shock, and I was able to see how difficult it was to work efficiently when communication was not natural. It was important for me to understand that I needed to contribute without becoming a burden on others, especially as the language barrier was as difficult for my coworkers as it was for me.
How has this experience impacted your future?
Baishi: This was the first time I spent a significant amount of time in a foreign country where I did not speak the language very well. It really emphasized for me the importance of being patient and learning the culture from the people around you. Oftentimes we forget just how many unique people there are spread across the world who all offer interesting stories to share. I found it incredibly important to step out of my everyday life and hear those stories in person.