What originally inspired you to intern in Beijing with CRCC?
Carlos: At the time, I was seeking a Master's Degree in Architecture at the School of the Art Institute of Chicago. I was looking to expand my horizons in the area of architecture and was ideally thinking of travel opportunities. In my studies and research, I knew of the advanced technologies and methodologies in architecture that was happening in China. In addition to their recent hosting of the 2008 Olympics, China was at the forefront of some amazing newly built architecture. I also knew of China's rich past and wanted to experience the culture and the Chinese people's love of architecture, old and new.
I located CRCC through my school's website for students. I saw an opportunity to intern abroad. I researched CRCC and was pleased that their company placed American students in China's leading markets and gave students a one to three month experience in Chinese workplaces. I seized the opportunity in utilizing a company that had established networks within China and it saved me some time, looking for intern opportunities abroad.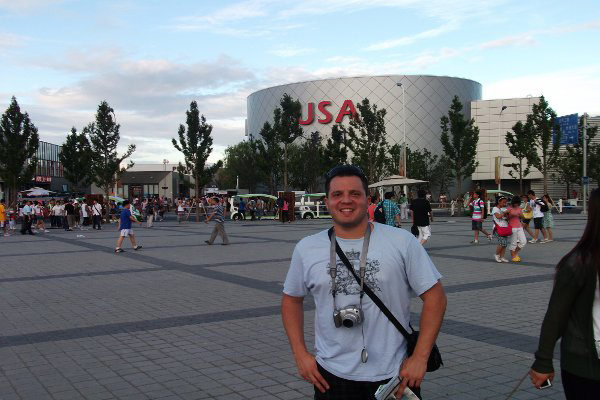 Describe your day to day activities as an intern in Beijing.
Carlos: To my surprise, I was the first architect intern that CRCC placed in China. I was excited about this opportunity and was looking to make an impact and soak in all the knowledge that I could. I was placed with a firm called Spatial Practice. There, I was a part of a small team of architects working in Beijing. Our project was a part of a national competition to design a skyscraper inside China's Central Business District (CPD). From concept to architectural drawings, I helped to present the ideas of the firm to a panel that was choosing amongst designs sent in from other top firms in and out of China. I worked on making concept models to developing drawings and diagrams that represented the firm's ideas. The firm's final presentation was not selected as a finalist; however, the experience in being part of a project from beginning to end was priceless; I know I could not be a part of such an experience anywhere else.
How has this experience impacted your future?
Carlos: My experience in China was absolutely complete. Having a central role on a team of architects in developing a concept from beginning to end allowed me to understand the undertakings of an architect. I completely understand the rigors involved in detail and understand what is needed to present ideas to potential clients.
Having returned from my trip to China, I have a renewed vigor to return to China sometime in the future either professionally or personally. I understand what is needed on my part in participating in a culture very unfamiliar to my own. Having flexibility and a respect to the host culture has added virtue to my life and I will always remember it as a great experience.