Why did you decide to study abroad with AIFS at Collège International de Cannes?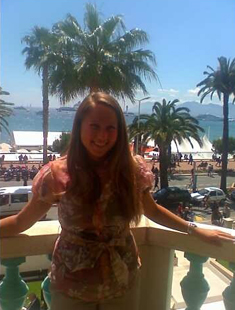 Meredith: I chose to study abroad in Cannes because I had previously been to Nice and I fell in love with that area of the world. Also, the opportunity to intern during the Cannes Film Festival was a huge draw for me. Additionally, the excursions and trips they had planned for us were all areas I really hoped to visit, so that was a factor I considered.
What made your study abroad experience unique and special?
Meredith: For me it was all about the people - the fellow students in my program, the AIFS staff, the staff at the College, and especially the town of Cannes. We were the only study abroad group in the city, so we really became attached to it, and local businesses would recognize us and were happy when we stopped in to eat or grab something. I didn't feel like a visiting student who was going to be leaving soon, I felt like a real part of the community.
How has this experience impacted your future?
Meredith: Cannes impacted my future in only positive ways, including my ability to connect with others and approach challenging situations with an open mind. Professionally I've been able to talk about my internship experience during many interviews, and it always gets a laugh when I tell them, "If I can help plan and execute a last-minute press conference for Tommy Lee Jones in a city where I have to speak a foreign language to get anything done, I can certainly accomplish anything you need in English!"