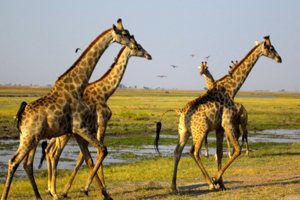 Why did you decide to volunteer with African Impact in Zambia?
Anthony: I decided to volunteer with African Impact because they are a very reputable company specializing in volunteer projects in Africa. African Impact is a very vibrant and fun company solely dedicated to making a difference and making sure that all their volunteers and staff are safe and having a good time. I also chose African Impact because all of the volunteers roomed together in one large building and travelled to and from projects together; this made sure that I never felt alone or uncomfortable.
Describe your day to day activities as a volunteer.
Anthony: Each morning we would wake up at 7:00, have a typical breakfast of cereal and toast, and depart to project by 07:45. As a part of the medical project, we would either spend our time in the local clinics, at the Old People's home or out doing home-based care. Home-based care was truly fascinating – we were dropped off at the cusp of rural villages, armed only with a backpack of supplies, and we would move from house to house treating people with any and all kind of ailments. One of my most memorable moments involves cleaning and bandaging the old wounds of a male patient! The local clinics were always bustling with local people and always left us with a memorable morning; every Wednesday morning we would weigh over 100 babies at the Linda clinic!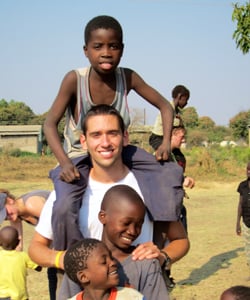 After eating lunch at 12:00 we would relax by the pool and catch some sun before it was off to afternoon project at 14:00! The array of afternoon projects that African Impact supported was truly amazing – these projects included: reading club, art club, after-school programs, YCTC, farming, HIV education at the local prison, football club and painting. No matter which project you are assigned, you are guaranteed to have a small group of children following you around and climbing all over you! A few of my favorite afternoon memories come from the after-school program and HIV education at the local prison. The after-school program included participating in games/activities with a whole bunch of children in an open field – all while kids climb all over you! The HIV education program at the local prison was truly amazing; not only were the prisoners very intent and appreciative of the information, it was a truly enlightening experience.
After arriving "home" from project at 16:30, all of the volunteers would hang out around the house or perhaps venture into town to the local markets. The local markets in town, like the Marumba Market, were great for finding unique items not typically found at the "tourist" markets, like quality Zambian football jerseys. The Curio market, a "tourist" market, was a 5 minute walk away from the Livingstone Backpackers and had everything from paintings to small wooden carvings – make sure to go towards the end of the day for the best deals! Dinner was at 18:00 and was always amazing – from home-made lasagna, to a full-out braai (Zambian barbeque) we were never left hungry.
After dinner, the Livingstone Backpackers became a fun and exciting place – the comfortable and relaxing atmosphere made it very easy for all of the volunteers to enjoy each other's company and get to know one another. Fridays were especially fun as most of the volunteers and staff got together to celebrate "happy hour." No matter what night of the week, there were always volunteers and backpackers alike sitting down by the bar enjoying a drink, having a swim in the pool or playing cards in the volunteer house! Whatever social scene you prefer, you are guaranteed to have a great time!
What made this experience unique and special?
Anthony: This volunteering trip was unique and special because I was able to experience another part of the world that I may never see again. Zambia is a truly special place with an amazing landscape and even more amazing people, everyone was so welcoming and I felt right at home as soon as I arrived. While on project, I was able to get right into the action giving me a sense of satisfaction – I actually felt like I was making a difference. After leaving Zambia, I look back on the two weeks that I spent with African Impact and I have absolutely no regrets.
How has this experience impacted your future?
Anthony: This experience has made me much more appreciative of all that I have in my everyday life. Volunteering in Zambia has made me realize that having your health and family, above all else, are the most important things in life. Also, I have come to the self-realization that whatever career I pursue, I would like to be helping those who are less fortunate than I am.