Why did you decide to study abroad with TEAN?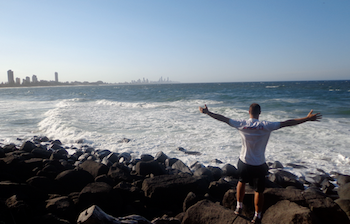 Cody: TEAN actually kind of fell into my lap. I was looking at a bunch of programs and I was pretty set on New Zealand or Australia, but I had a job commitment when all of the other schools started. Bond University is the only school on American semesters, and I happened to be paging through a TEAN catalog when I discovered this. My study abroad advisor got me in contact with another student at University of Iowa who studied at Bond through TEAN. She told me how wonderful it was and gave a 100% recommendation to go through TEAN, so I decided to go through TEAN and I am so grateful I did.
What made this experience unique and special?
Cody: Definitely the people I met and friends I made. I think that TEAN does an excellent job of uniting the group with TEAN activities throughout the semester. There were people from coast to coast studying abroad with TEAN, and I became very close friends with most, if not all, of them. I think that it is really special that TEAN can throw in 35 people from different ethnicities and backgrounds and we all became great friends. I hope to remain in contact with many of these people in the future.
How has this experience impacted your future?
Cody: Going abroad is really a growing up experience. I have been fortunate to have supportive parents and whenever I need something, I know I can always give them a call. While abroad, you are on your own. You have to be independent. I think that gaining this independence is crucial not only to your personal life, but your professional and academic life as well. After going abroad I really look at the world from a different angle. I am much more understanding with people and definitely much more giving. I think that everyone should have the opportunity to study abroad, it is a wonderful experience.