Why did you decide to volunteer abroad with GVN in the Galapagos?
Sheri: I'd wanted to see the tortoises since I was a little girl, and this seemed like a much better option than being a regular tourist.
Eben: I had heard for years about amazing trips to the Galapagos, but it seemed much more worthwhile to go as a volunteer and help make the place better.
Patty: I love science, and Darwin, and always wanted to see where Darwin's inspiration came from. And because I wanted to make a difference in a developing country.
Talia: It sounded cool. It just sounded cool.
What made this volunteer abroad experience unique and special?
Sheri: Getting to leave something permanent and positive behind, and not just having fun.
Eben: I'd never been on a volunteer trip before, so it was unique for me, but what made it special was the amazing wildlife: giant tortoises, sea lions with no fear of people, sea turtles, and huge varieties of birds.
Patty: I got to meet a large variety of people who came from different backgrounds, do a lots of different types of work (one day planting, another day hacking Mora), and the wildlife there was amazing.
Talia: Seeing the tortoise eggs at the Galapaguera.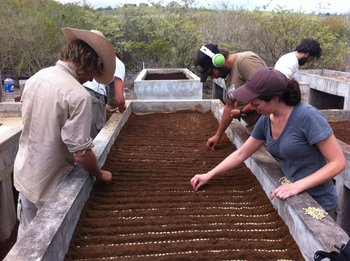 Ten years from now, what's the one thing you think you'll remember from the trip?
Sheri: On New Year's Eve the people build paper mache effigies of their friends, their families, co-workers, and animals, and burn them all to celebrate the new year.
Eben: There's no place to buy lumber in San Cristobal, so when they wanted wood for construction at the station, we went half a mile into the forest and found a non-native tree. The tree was cut down, sawed into thick planks by hand with a chainsaw (the guy doing that had amazingly steady hands), we hauled the planks back through the woods, where the same guy cut them into thin planks, again by hand. It made me realize how my ancestors must have done carpentry before they could just go to the lumberyard and buy wood!
Patty: Germinating endemic coffee beans at a greenhouse and taking a lunch break across the street at the giant tortoise reserve. Also, how certain parts of the islands seemed totally untouched, pristine, where other parts of the islands were heavily impacted by human habitation.
Talia: The sea lions in town, sleeping on park benches, babies sunning themselves on the beach.
What did you wish you knew before going to the Galapagos?
Sheri: Nothing, you can really make do with limited resources as long as you don't let little details stress you out. But the fact that I had better Spanish that the rest of my family made things easier for me.
Eben: That the mattresses were pretty worn out, and that I should bring an air mattress!
Patty: Spanish.
Talia: Same here.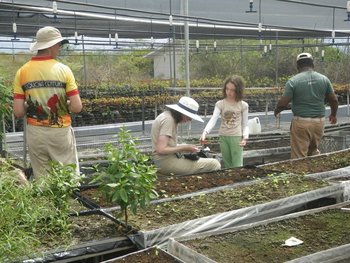 What was the best moment of the entire trip?
Sheri: Swimming with the sea turtles off the beach near the city in San Cristobal, where the water was warm and the turtles came very close.
Eben: Visiting one of the neighboring farms to help chop down mora (blackberry plants), and seeing a family living in very humble circumstances, with a few cows, a bunch of chickens and pigs in the yard, and a house they'd clearly built themselves. The tourist guides never show the human side of the Galapagos.
Patty: Snorkeling over a large school of Galapagos sharks out by Kicker Rock.
Talia: Hearing that my dad got scared by a cow in the bushes when he walked to the bathroom one evening.