Why did you decide to volunteer abroad with GVN in Kenya?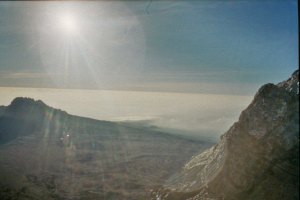 Lori: I decided to volunteer with GVN in Kenya because I had received an email from GVN that I could not pass up. I got the email because I was a part of GVN's 'Eat so they Can' program. The email said' Are you ready for the Adventure of a Lifetime?' I said to myself YES!, I am!
Then, when I read the email suggesting that I ring in 2010 by doing something amazing, a once in a lifetime experience, I immediately applied. I really liked that I could hike one of the 'wonders of the world', cross Mt. Kilimanjaro off of my 'bucket list'; and, support African orphans all at the same time!
What made this volunteer abroad experience unique and special?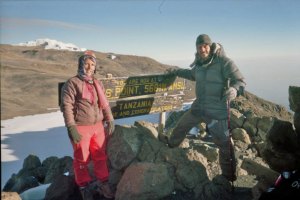 Lori: I think that this volunteer experience was so special because it was my first one! Also, there is nothing quite like AFRICA! I had no idea what to expect about anything. It was such a 'leap of faith'. Going to a totally different part of the world, doing something physically challenging, not knowing anyone, so scary! It was such a postive experience that I also did GVN's Machu Picchu fundraising trek.
During the Mt. Kilimanjaro trek, I experienced altitude sickness. I was quite humbled by how hard it is to do something when you are feeling so terrible. I had trouble breathing, had nausea, dizziness, sleeplessness, headache, altered vision. This was the first time I've ever done something physically challenging that it did not matter how fit I was. I was truly surprised that altitude sickness was a part of my experience.
Has your worldview changed as a result of your trip?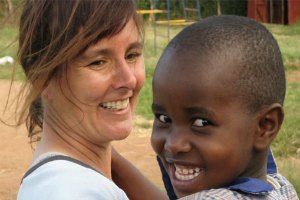 Lori: My worldview has forever changed because of my experience in Africa. Like most people I have seen images African poverty & African orphans before. It hurt my heart to see these images. However, when I actually went to some of the Kenyan slums and orphanages, I was forever changed.
When you see the lack of housing, food, water; when you hold the orphan babies, when you see hundreds of people living in a garbage dump, you can never be the same! I cried for a month after experiencing such devastation. I didn't know what I could do, to change any of it.
But, I knew I wanted to do something. Therefore, I raise funds for Eat so they Can; and, provide for one boy at Shelter Children's Home in Nairobi. My view of North America has changed, as I see such abundance here. My own life has changed a lot as I think about what I really need; and, what is really important.
What was the hardest or most challenging part of your experience?
Lori: The hardest part of my experience was seeing and experiencing Africa's poverty. As a single mom, I have some understanding of what it is like to want to provide for your children. I was deeply affected by kids not even having shoes.
When I met the little boy I now sponsor, we spent a long time holding each other, singing songs. All I could give this little boy was love! All he really wanted in this moment, was love! The feel of his body as he snuggled close to me humming along with my English singing was a moment that I can never forget.
Ten years from now, what's the one thing you think you'll most remember from the trip?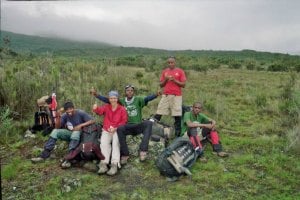 Lori: Ten years from now, the thing that I will most remember about my African experience is that we are all one! We all have the same wants, we want love, we want to belong, we want peace, we want to be able to provide food, shelter, clothing, education to our children.
All over the world, we are the same in these wants and desires! Also, the happiness that is experienced when visiting the slums and orphanages of Africa is an amazing thing! Even with the hardships of their lives, they greet you with warmth, with smiles, with cheerfulness. How amazing is that?