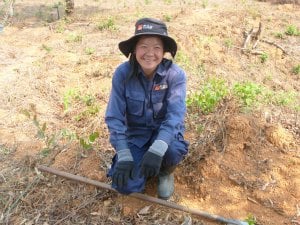 Why did you decide to travel abroad with GVN - Be the Change program in Tuscany?
Andrea: I had volunteered in Nepal through GVN and had a truly life-changing experience there. Then, years later (and about 4 decades after the fact) I learned about the US bombing of Laos that took place during the Vietnam War in what's known as the "Secret War." Well, it's a secret to most Americans but certainly not to Laotians, who have to think every time they take a walk, try to plant something, send their children out to play, or do any number of normal things "will I accidentally set off an unexploded bombie?" "Will I have my limbs/eyesight/child at the end of the day?"
Knowing that my country covered this little kingdom with unexploded ordnance that is found everywhere to this day, I felt a strong need to do something to help clean this UXO up. I had no idea how to go about it, though, so when I learned about GVN's "Be the Change" program I was overjoyed. I already knew and respected GVN because of my work in Nepal, so I was confident I would get the information and tools I needed in their program. It was a no-brainer -- and a godsend!
Describe your day to day activities as a participant.
Andrea: We stayed in a lovely villa in Tuscany, where the owners not only host groups but have a farm providing all kinds of fresh food AND a fabulous cook preparing this food for all of us! We would have a leisurely breakfast, then would usually have a seminar about an aspect of fundraising, mission definition, communication of the message, or some such relevant topic (with plenty of real-life examples from the facilitators). We'd been given lots of reading to do on each day's topic, so it was quite rigorous. A couple of times, we were rewarded with daylong breaks, once to Siena and once to Florence, and we enjoyed exploring these beautiful cities with our new friends! As the week went on, we presented our ideas first to our facilitators, who gave us feedback and helped guide us into avenues that would be most helpful in achieving our goals. Then we made our presentations to the group as a whole. The enthusiasm and support each of us got was invaluable!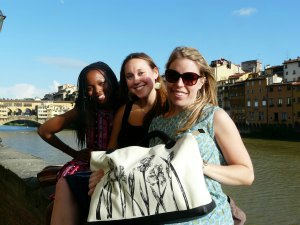 Ten years from now, what's the one thing you think you'll remember from the trip?
Andrea: I'll always remember the wonderful people who were there. Colin, Courtney, Caitie, and Magogodi, the facilitators, were always available to give support and concrete suggestions -- and they couldn't have been more fun to work with! And then, the other participants, from all over the world, each with an idea, a dream, a mission, were all inspiring, open, friendly and, again, FUN! I feel that we all bonded through Be the Change and as I keep up with my friends' progress I am so happy to see them going along their paths towards their goals. I also know that they're happy for me and will be there with ideas and encouragement any time I need to call on them!
Tell me about one person you met.
Andrea: My roommate, Reginah, was such a lovely person -- it was worth going to Tuscany just to meet her! Reginah is a nurse in London, but she's from Zimbabwe and has a dream of opening a school for girls in the south of her country, an area that is overlooked or maybe even discriminated against by the leaders of Zimbabwe, whose focus seems to be on the north of the country. Reginah is very down to earth and is filled with a quiet determination. I know she was not in her comfort zone giving a presentation, but her passion and inspiration shone through and I also know she will get a lot accomplished. With her dry sense of humor and her energy, I couldn't have asked for a better companion that week!
How has this experience impacted your future?
Andrea: I've started a nonprofit called "The Project for Lao UXO Removal" (and I'll tell you, coming up with a name was a real chore, as evidenced by its clunkiness...), and I'm selling Laotian coffee and notecards illustrated with photos I've taken there to raise money. I've traveled to Lao since the program and was able to focus on gathering the information I needed to make my case. I was fortunate enough to travel with the Mines Advisory Group's director in Lao, David Horrock, and spent a week in Xiang Khouang, the most heavily bombed province, going out in the field to observe teams clearing fields of UXO. It's amazing -- those cluster bombs are everywhere! And each with a killing radius of 30 meters... Boggles the mind. I've got a website (theprojectforlao.org) and MAG interviewed me for their Fall, 2012 newsletter. Now I'm "An Extraordinary American" AND the article gives prominent credit to GVN's "Be the Change" program.