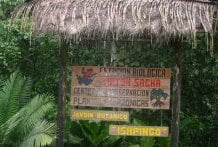 Why did you decide to volunteer abroad with GVN in Ecuador?
Phil: I wanted to travel (again) and wanted to do something worthwhile with my time abroad. I had an ongoing interest with the Amazon and chose GVN as they had a good reputation for voluntary work in this region, the project was working at the Jatun Satcha reserve which is a long established conservation reserve in primary and secondary rain forest.
Do you feel like you made a significant impact on the local community? Why or why not?
Phil: The program did have a positive impact on the local community through employment, trade, work carried out for locals and the once a week football match! Some volunteers helped out in local schools as well as the voluntary work on the reserve.
What did you wish you knew before going to Ecuador?
Phil: Ecuador is a great country and its people are some of the friendliest in South America.
What was the best moment of the entire trip?
Phil: There were many great moments; watching seedlings grow, the sounds and smells of the forest, the people, the insects and generally feeling part of something positive.
How has this experience impacted your future? (Personally, professionally, etc)
Phil: I took a career break to spend 2 months in Ecuador, this experience has given me a greater understanding of our relationship with the forests of the world and it has given me an unforgettable life experience.