Why did you decide to attend the GVN - Be the Change program?
Adam: I grew up an overweight child, and having overcome those challenges, every now and then I would find myself perusing the internet in search of programs that would help overweight youth nowadays. I guess I just wanted to see what it would be like if I grew up now and was looking for help, and I was surprised at how difficult it was to find support groups or forums, especially in my area. Being a bit of a wanderlust, I would also pine at the idea of travelling, especially in a volunteer capacity, but had no experience in that field, or any real idea where I'd go or what I would do. In the end, I really just wanted to help people, to help be a part of change, particularly with overweight youth.
I really only had the smallest idea as to how, so I was looking for that next step, that extra support and guidance, and having never been outside of my country before, I was excited at the thought of travelling somewhere far to look for that help. After a bit of searching online, I came across the GVN - Be the Change, which seemed perfectly fine tuned to what I was looking for. Even better, they were having a program in New Zealand, a country I'd always wanted to visit, so I typed out an application, took a breath, and hit "send."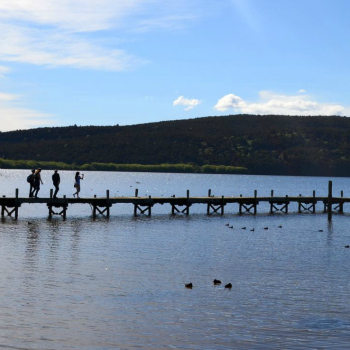 Describe your day to day activities as a volunteer.
Adam: Each morning comfortably started with ample time for a relaxed breakfast and some recreation (jogging, yoga). Then the staff would rein us in and we'd dive into the scheduled workshops for the day, keeping actively engaged with visual aids and activities, allowing time for sharing personal stories and goals. The mood was often very light and warm, and the staff perfectly balanced creating a positive and friendly setting while keeping a definite focus on why we were there, to provide the resources for us to cultivate our vision of change. We'd be given time between topics for small breaks or a longer lunch, providing many food options to accommodate the participants dietary needs. For me, that often meant quick and simple (and delicious!) wraps so that I could spend the rest of the lunch break in the sun playing badminton or volleyball.
At the onset of early evening, we would often engage in a more recreational activity to take advantage of the beautiful country, such as a walk to a nearby lake or a visit to thermal sites and hot springs. The preparation of dinner was divided into partnered pairs, and was a fun way to share stories and culture over healthy and creative meals.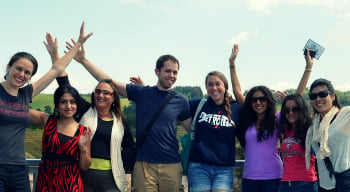 Ten years from now, what's the one thing you think you'll remember from the trip?
Adam: Aside from the friends I've made and the awesome experience of being a Lord of the Rings fan going to New Zealand for the first time, what I will easily remember most from my time in the Be the Change program is how humbled I felt surrounded by so many amazing individuals, from the staff and guest speakers to the other participants, and yet each and every one of them would look at me, hear my story and my vision, and genuinely believe in me. That feeling is priceless.
To have these people, who in my eyes have accomplished so much, far more than I thought I ever could upon arriving in New Zealand, tell me that they were the ones humbled by me and my passion, it was truly inspirational. I could see in their eyes that they really meant it, that they were excited for me, encouraged and inspired by me, and as cheesy as it may sound, it helped turn a small town guy like me, who often hoped that he might one day change lives, into somebody who knows that he will.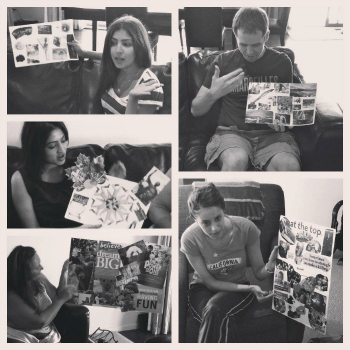 What was the hardest or most challenging part of your experience?
Name: I think the hardest part of the process for me was opening up to share my story and my vision, to say the words and make it real. Once it's out there, there is now a sense of accountability, and I think that scared me. Would anyone believe in me, am I wasting my time? How could someone who often feels so little even begin to take on something so big? I think many people have these thoughts and fears stepping outside of their comfort zone to follow a passion, and I was relieved to find that as soon as I said the words and shared my story, everyone not only believed in me, but they were excited to show me how and why.
The level of support and positivity from everyone involved was staggering, and it wasn't like this bunch of cheesy rainbows and kittens type of hollow optimism, but real input and criticisms, true and deep concern and acceptance. It was amazing.
How has this experience impacted your future?
Name: It has impacted me immeasurably! On a personal level, I left the experience a much more positive person, approaching challenges, and life in general, with much more confidence and purpose. On a professional level, I have used the tools and knowledge provided me to take the steps to begin working on creating a community outreach program for helping overweight youth overcome the physical, mental and emotional hurdles of battling weight so that they may see the greatness in themselves.
Having overcome an overweight childhood myself, I have been there and lived it, so I know they can't always see that greatness in themselves, and I want to share my experiences with them, educate and encourage them, and work to help these kids truly believe that they are all capable of amazing things. Of course, there are still several steps to take and challenges to face, but I remain confident and excited for the future possibilities!