Why did you decide to study abroad with USAC?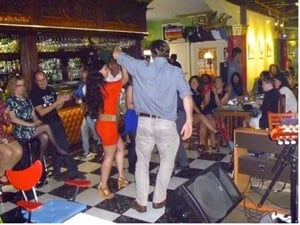 Paula: I had always known that I wanted to study abroad in Spain. However I was had trouble deciding where in Spain would be my best fit. I wanted to study in a smaller city, rather than a big tourist city such as Barcelona and Madrid. When talking to my study abroad advisors at my home university, they mentioned that I should take a look at the programs USAC offers. I saw that USAC offered more programs in Spain than my home university. I liked the idea of studying with a program with other students from other universities. When I heard about Alicante, I knew it was the perfect location. It was a smaller city where I would definitely improve my Spanish. Plus, it was right on the coast! I looked at the video for the Alicante program and also looked at the USAC site for more information. It seemed as though the USAC programs provided a lot for its students such as field trips, and optional field studies. I talked it over with my advisors, and they ensured me that USAC was a great choice, and that the USAC advisors are great. In the end, I am so happy I made the choice to study abroad with USAC.
How has this experience impacted your future?
Paula: I know it is a cliché to say that when you return from a study abroad trip, you become a new person. Although I denied this at first, I am beginning to realize that this study abroad experience has changed me and impacted my future and goals. After getting back from Spain, the only thing I think about is doing more traveling and exploring new cultures and countries. This experience made me realize just how big this world is and how there is so much going on beyond the boarder of our own country. I have become more open to new ideas, customs, traditions and people while I have been abroad. It also made me think about my own life back home, and how we live. I now view things much differently but most importantly I more open to trying new things. I will continues to practice my Spanish, which I greatly improved while I was abroad. But for my future I would love to learn more languages and have a job where I will be able to travel again.
Describe your program socially and academically.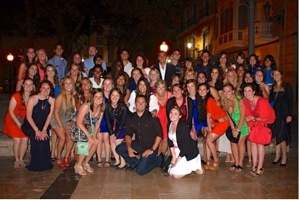 Paula: The USAC program was amazing both academically and socially. They really did challenge you academically, especially in the language department. I had taken three previous years of Spanish before studying abroad, so I was placed in an advanced level class. The professor I had for Spanish was probably one of the best professors I had ever had. She only spoke Spanish, so I believed that really forced me to just think and learn in Spanish. I feel as though I have learned more Spanish in this past semester than I had my whole life combined. The other classes I took with USAC were just as great. I took a gender studies class with USAC students and Spanish students. It was a great way to interact with Spaniards and see their views. Outside of academics, USAC offered tons of ways to keep yourself busy. They had intercambio programs, tutoring programs, weekly soccer games, weekly events in the city, and ideas and information for trips. There was always something to do, and USAC would give you all the information you needed for anything you were interested in.
Describe your favorite, must-have food that you tried abroad.
Paula: My favorite food about Spain was definitely the seafood paella, which is famous there. This dish consist of yellow saffron rice mixed with chicken and fresh seafood such as mussels, claims, squid, and of course the shrimp with the heads on! I loved this food so much while I was there, that my host mom taught me how to make it! Sometimes she would prepare it with ham croquettes, which I also loved. They were fried balls filled with ham and sometimes seafood. So yummy!