Why did you decide to study abroad with USAC?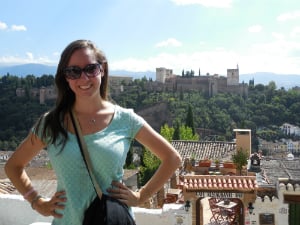 Caroline: My study abroad advisor at the University of Maryland highly recommended USAC. UMD has a partnership with USAC, making the transfer of credits from their programs back to my home university very simple. I specifically wanted to study abroad in a Spanish speaking country, and I thought Europe sounded interesting as well...making Spain my best choice!
USAC has four different programs within Spain: Madrid, Bilbao, San Sebastian, and Alicante. When my study abroad advisor showed me the pictures of Alicante, I knew that was where I wanted to go. A smaller city on the Mediterranean coast, but with Renfe access to larger cities such as Madrid and Barcelona...it was the perfect choice.
How has this experience impacted your future?
Caroline: I have always had a fear of flying and never considered studying abroad until I began taking Spanish classes in college. After much coaxing, I decided that it would be so worthwhile to spend a semester abroad. I went with the goal of learning and becoming fluent in Spanish, but came back with so much more. I was so anxious about spending a semester away from home, but now that I am back, I realize that a semester wasn't enough. I would go back in a heartbeat. I would love to do speech therapy with Spanish-speaking populations, or volunteer abroad in different countries.
Tell us about an experience you had that you could not have had at home.
Caroline: Being in an education-related major, I have always enjoyed teaching opportunities. While in Alicante, USAC arranged for the American students to tutor Spaniards. I worked with an 11 year-old girl and her 6 year-old brother. Each Wednesday I walked to their apartment, which was near la Universidad de Alicante, and tutored Carlota and Pau for an hour. I had to plan lessons each week based upon their needs and interests. It was really interesting to learn about how other people learn languages, not just myself. I was paid for my time, and I thoroughly enjoyed working with them.
What was the best place you visited outside of your study abroad city?
Caroline: One of the greatest things USAC did was offer a five-day Madrid tour at the beginning of the semester. Our program directors met the group flight at the airport and spent the next four days showing us around Madrid. We had daytime group plans but were able to explore the city on our own at night. It was a great way to adjust to the Spanish culture and meet our new friends.
I absolutely loved Madrid because it was the first European city I visited and where I started my semester abroad, but I also traveled to many other cities while abroad (Paris, Rome, London, Dublin...just to name a few). Some trips I did on my own or with a few friends, and others I did with organized groups.
What is one piece of advice you'd give future USAC students?
Caroline: Just one?! It may sound trite, but the best piece of advice is to not take a single second for granted. Take advantage of everything that comes your way. You are at a time and place in your life when things simply have a much larger impact than you ever could have imagined.
Do some research ahead of time...the places you visit and things you learn will mean much more to you if you know their background. Budget your time and money wisely, but be sure to splurge now and then too. If you think you've taken enough pictures, take more. This is an experience that you will remember for the rest of your life. There is no one way to make those memories, just be sure to make the most of them.