Why did you decide to volunteer with African Impact in Zambia?
Marissa: I had a month off from school for winter break, and I knew I wanted to take advantage of that time by traveling and doing something useful rather than sitting around at home.
I was familiar with a few different volunteer organizations, but I was looking for a program that ran during the Christmas holiday.
African Impact had the perfect program where I was able to work with kids on a teaching program during the holiday season.
They are also a reputable company that has many projects running year round all over Africa, so I was confident that they would be a great organization to volunteer with.
How has this experience impacted your future?
Marissa: After volunteering in Zambia I am much more open minded about the viewpoints and cultures of others.
I am also more appreciative and grateful for the simple necessities in my life that I had previously taken for granted. Some of the kids would come to school barefoot every day or wear the same clothes for the entire week. One boy even came to school once in just his underwear!
It was a life enhancing experience that made me realize how much I have, and it gave me the desire to give back more to those in need, whether it is around the world or right in my own community.
What was the best moment of the entire trip?
Marissa: Determining the best moment is always difficult because there were so many to choose from!
One of my favorites was playing "Freeze Dance" ("Musical Statues") with the kids. They loved the music and were so happy to dance and play a game. Lots of them were actually very good dancers!
It was uplifting to see the kids let loose for a while since many of them have to look after their younger siblings and take care of many other adult responsibilities when they are not in school.
What did you wish you knew before going to Zambia?
Marissa: I thought I wouldn't need it, but that "travel rule" of always bringing at least one nice outfit still applies here! We would go out on the weekends sometimes or occasionally go to a nicer place for dinner. It never hurts to throw a dressier outfit in your suitcase to be prepared just in case!
On the flip side, it's always helpful to bring plenty of old clothes that you don't care much about anymore. I brought some, but I definitely could have squeezed more into my luggage. These are great for working on projects since you may get dirty and will likely be sweaty depending on which project you are working on.
And the best part- you can leave with a fairly empty suitcase coming home! Some of the locals at the markets will be happy to trade some of the items they are selling in exchange for clothes/shoes/hats/etc., or you could even donate any unwanted items to African Impact.
I brought along an old bag that ripped while I was in Zambia. What I initially thought would be garbage turned out to be completely fixable thanks to the fantastic sewing skills of the Zambian staff.
It made me wish I had brought along more of the clothes and other accessories I have lying around my house that I don't even use anymore!
Do you feel like you made a significant impact on the local community? Why or why not?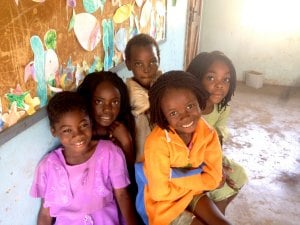 Definitely! Although I do wish I could have stayed longer, even in the short period of time that I was in Zambia I learned that every little bit of help counts.
Whether it is bringing along donations, teaching others something you are skilled at, or showing a child that you care about them, every little thing makes a difference.
Specifically for the teaching program, providing education for kids who may not be able to afford it otherwise can go a long way.
Ultimately what it comes down to is the impact that all the volunteers make by uniting together. Everyone comes and goes through the volunteer program, but regardless of the length of their stay each person plays a role in contributing toward African Impact's larger vision of "bringing about positive change where it's needed."