Why did you decide to study abroad with Omeida Chinese Academy?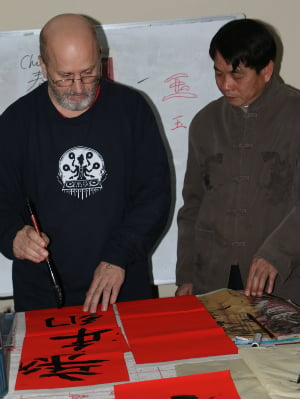 Roy: I first encountered Omedia Chinese Academy when I was already staying in Yangshuo at a local Taiji school. I had heard about Omeida before but never visited there until they challenged us to a game of volleyball. The beat us but none the less a firm friendship was established.
The following winter vacation, thinking about the need to work on my Chinese, I booked a series of Saturday morning classes at the school. I did this again the following summer and found that not only did I really enjoy the language learning, the teachers were also very good. It wasn't until the winter vacation of 2013 though that I made the decision to focus my time on learning Mandarin and I didn't return to the Taiji school that summer but took an 8 week course at Omedia. I repeated this in the winter vacation of 2014 and really started to feel that it might actually be possible for me to one day have a conversation in Chinese.
What made this study abroad experience unique and special?
Roy: The thing that makes studying at Omedia special is the camaraderie and friendship that you meet there. The teachers are very attentive and supportive so you really feel like one of the family. I personally think that the owner, Mr. Odar, has done a really good job in fostering a happy immersive environment for students to participate in. There is always the sound of laughter and good humour around the school and I always miss it when I am not there.
When you spend so much time in a room with a teacher it is inevitable that you are going to form some kind of a relationship with them. However at Omedia I feel I have made real friends who I am still in contact with. In fact, we communicate regularly and we help each other with all sorts of language and cultural issues (English and Chinese). Every time I return there I feel welcomed and quickly slip back into being part of that big ever growing family of friends.
What did Omeida Chinese Academy do for you and what did you need to do on your own?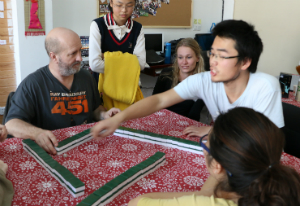 Roy: I first tried learning Chinese on my own knowing that I would be living here for a while. I used various online podcasts to try and get some basics down and it helped a little. Once I had moved to China and was working here I then found a local teacher to help me. However, learning just once or twice a week doesn't really push you on the fast. You can also find that while your teaching might be a nice person with good intentions, their skill as a teacher is a little lacking. Often the local teachers are just people with a little teaching experience who are trying to make some extra money. There is a sense that they feel they can teach it because they speak it.
What I found at Omedia was an entirely different experience. Professional teachers, with lots of experience and great language skills. They are able to respond to your own personal needs as a learner and focus language lessons around your personal learning style. This, coupled with the immersive nature of intensive study really is a different way of learning.
I still do the lessons with my local teacher, at this point in time I have an undergraduate student teaching me, but the difference in quality and experience is really clear. When I am at Omeida I learn as much about teaching from the teachers as I do Chinese. When I am with my local teacher I have to teach them to teach as well since they really don't know how to teach in a western style.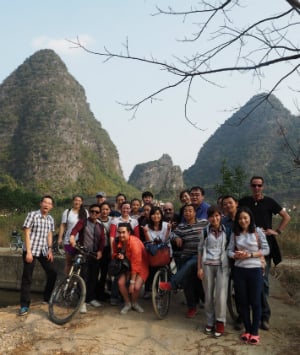 Do you feel you got a chance to see the city from a local's perspective?
Roy: Living for extended periods in one city you really get to see another side of life. You become immersed in the local culture, its not like visiting somewhere as a tourist. I have been going to Yangshuo for many years but actually the stays at Omedia Chinese Academy have opened new doors and initiated new friendships. I have participated in cultural activities as part of local traditional festivals in ways that I wouldn't have as a tourist.
For example during the Spring Festival, the school organised a number of cultural activities including calligraphy and the making of dumplings (an important part of the festival). We also got the opportunity to go out to dinner with some local people and really get to know their life as well. The longer you stay in one place the more you notice the little things and discover those magical little places that others just pass by. I have cycled many times down to the Yulong River from the school but it was only when Mr. Odar lead a cycling trip there that I discovered all the back lanes and off road tracks. That was an amazing peek behind the scenes at real local Chinese village life.