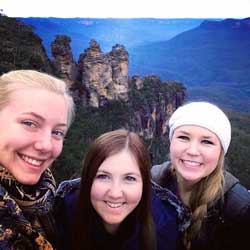 Why did you decide to work abroad with AAG?
Kristin: Moving to Australia was never a part of my life plan! I had always envisioned working for a nonprofit organization in Africa after graduating from college. I have a degree in International Development, a deep passion for poverty alleviation, and have spent three summers interning in Eastern Africa, so I couldn't imagine myself anywhere else after graduation!
However, after an amazing time backpacking through Europe for six weeks after graduation, I found myself back at home turning down costly internship offers in Africa. I quickly became disenchanted by my new part-time retail job, and I knew I had to do something! Thank goodness I had briefly heard about a program called Alliance Abroad during college, and had signed up for their email list to receive updates about job opportunities.
To make a long story short – I woke up one morning to an email from Alliance Abroad saying they had job openings in Australia, but the catch was you had to move in two weeks! I knew this was the one time in my life I could drop everything, pack my bags, and move abroad spontaneously.
So, to my families and friends surprise, two weeks later, on the night of Thanksgiving, I boarded a plane headed to Sydney, Australia with no plan, but with the excitement of knowing a job was awaiting me.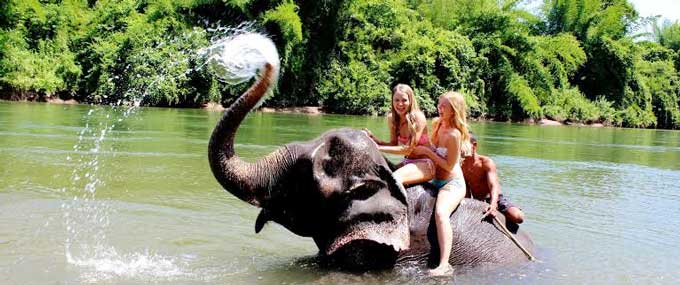 What did AAG do for you and what did you need to do on your own?
Kristin: AAG made moving spontaneously to a foreign country very easy! First and foremost, they helped me secure a job before even setting foot in Australia. Based on my skills and experience, they set up an interview with a potential employer they thought would be a good fit for me.
In my case, this was with Trippas White Group, one of the leading restaurant and catering companies in Australia. My specific role would be serving as a Lounge Attendant at the Emirates First Class and Business Lounge at the Sydney International Airport. Prior to my interview, AAG helped me professionally edit my resume, and conducted a mock interview with me to ensure I was well prepared.
Once I successfully got the role, AAG helped me with the paperwork for opening a bank account in Australia, getting a Tax File Number, and assisted in the visa application process. They also booked two nights hostel accommodation for my arrival in Sydney.
Once I set foot in Australia, I was on my own! I had to find housing, learn my way around a new city, and make as many friends as possible! However, AAG was always available 24/7 via email, phone, or text if I needed anything.
What was the best place you visited outside of your intern abroad city?
Kristin: I'm hoping this will continue to change as I travel more during my stay in Australia, but as of right now, I would have to say Siem Reap, Cambodia has been my favorite city I've gotten to explore!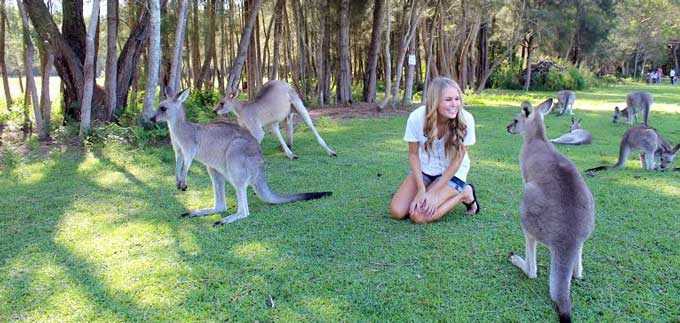 I was only there for a few short days, but in that time I quad biked through the countryside, zip lined through the jungle, explored one of the largest religious monuments in the world, got a 30 minute foot massage for under $3.00, and ate more food than my stomach could bear. This city was unlike anywhere I had ever been, and I felt like new adventures were waiting on every corner.
Tell us about an experience you had that you could not have had at home:
Kristin: Well to name a few... Made friends from 23 different countries. Pet a kangaroo. Snorkeled the Great Barrier Reef. Sailed the Whitsunday Islands. Spent summer afternoons relaxing at Bondi Beach. Rang in the New Year to one of the biggest fireworks displays in the world. Rode an elephant.
Tried bugs. Served Bruno Mars at the Emirates Lounge. Zip lined through the jungle. Quad biked through the Cambodian countryside. Spent my 23rd birthday on an overnight train in Thailand. Won free VIP tickets to my first music festival. Participated in the Color Run at the Sydney Olympic Park. Fell in love with the hospitality wage in Australia...125% pay on Saturdays, 150% on Sundays, and 250% on holidays!
Jumped on an inflatable Stonehenge during Sydney Festival. Woke up to the sound of Kookaburras every morning. Tried the best gelato of my life. Became a tour guide in a foreign country. Pet a Koala. Gained an unhealthy addiction to Tim Tams. Watched the NSW Rugby team (The Blues) win the State of Origin series for the first time in eight years.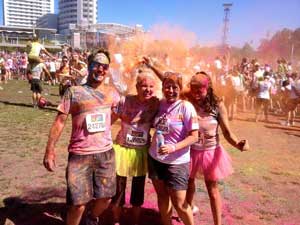 Do you think your program changed you as a person?
Kristin: The biggest change I have seen in myself is my confidence. Moving to a foreign country where you know no one forces you to really put yourself out there in order to make friends. I'm no longer afraid to introduce myself to strangers, I don't feel awkward asking for people's phone numbers, and I'm usually the first person in a group of friends to suggest fun plans.
I also find myself able to talk to people now as if I've known them forever. I've always considered myself to be an outgoing person, but my time here in Sydney has really amplified that. I met my now best friend randomly at Bondi Beach one afternoon, so I've learned to embrace meeting new people at the most unexpected times and places. It has been very empowering to move somewhere where I have been forced to be fully dependent on myself.