Why did you decide to intern abroad with AAG?
Camille: For a long time I had Australia in my mind. I really wanted to go back and have a work experience there but I couldn't take the risk to go there without a job! Imagine if you go there, look for a job for weeks and find nothing!
There was no way for me to take chances! So when I found out about this program I was thrilled! That was perfect for me! You only buy your tickets when you know you have a job so that way you feel safe!
Tell us about any interesting cultural tidbits you noticed about your country.
Camille: Being French, I like to learn new English words / slang / things that people say a lot, and for that Australia is very good! G'day, cheers, no worries!!!
Also I've noticed that the Aussies are more relaxed people and they enjoy having a beer while watching what they call "the footy". What I don't like is the constant commercials on TV, it's crazy!!
We also have dinner really early here, around 6pm, which for me is unusual but I'm used to it now!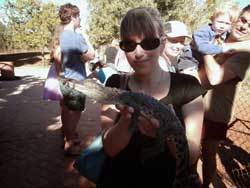 How has this experience impacted your future?
Camille: I believe that having an experience abroad is a big chance and I would recommend it to anyone. I worked 5 years in 2 different hotels in France and I hope that, having a valuable experience here, it will help me in my future search for a new job in hospitality when I get back.
I would love to evolve in a new position such as assistant of the front office manager, which is already what I kind of do here in Broome since I'm the only guest service agent working full time!
Where was your best photo taken and what was it of?
Camille: So far I think one of the best photo I've taken is one of Roebuck bay on a cloudy day (unusual for Broome!). I like the colors of the Kimberley: the pure blue ocean contrasting with the red rocks! It's truly beautiful and I'm looking forward to discovering it even more at the end of my contract here. Western Australia is huge and there are so many places to visit!