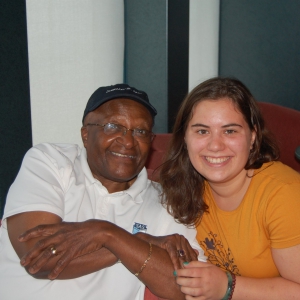 What is your favorite travel memory?
When I was on my voyage, I chose to do a homestay in India. There were 17 students as well as our two trip leaders. The family we stayed with also had family/friends that came to visit while we were there so it was like a big SAS/family reunion combined. Among the visitors was a set of twins from Bangalore that were the same age as the SAS students. The best was getting to know them and learn about Indian culture through the eyes of a college student in India. I became close with them and we are still in touch over 5 years later where one of them is working in Australia and the other the UK!
Which destination is most underrated? Conversely, which is most overrated?
I don't think it's possible to say that any destination is over or underrated. What is important is that when you travel to a new place you do your best to learn about the country and go outside of your comfort zone! Before I sailed there were many places I had never considered going such as South Africa and India, but they are two of my favorite countries in the world. I believe that it is important to push your boundaries and go to countries that you may not have considered going to in the past and will challenge you in some way.
How have you changed/grown since working for your current company?
Here at Semester at Sea we all wear many hats and one of the biggest things you learn while a SAS student is flexibility. These two things have really helped me to grow as an individual and as an employee. Getting to work with students in all aspects of their application as well as working with universities has taught me the value of strong relations.
It is key to build up a strong foundation in order to ensure the success of not only your own career but also to help others with theirs as well. I have definitely grown stronger and more confident as an individual something that managing all aspects of a territory has helped me to be.
What unique qualities does your company possess?
Semester at Sea is a fairly small company and as such we must work together to ensure the success of the voyage. Additionally, it is the only program of it's kind in the world so there are many parts that must all work together to ensure the success of each voyage. Here at Semester at Sea, we understand the importance of working as a team and communicating with others. If one department does not communicate with another then that could have a major affect on the students and the success of a voyage.
Additionally, being the only comparative shipboard based program in the world, there is often communication with many countries at a time so it is an ever evolving program and team.
What is the best story you've heard from a return student?
Every time I speak with students when they return I ask them for some highlights from their voyage. Each student comes back with a different stories and the best part is hearing that every student will come back with a different story from each country, even those that traveled together and had the same plans in each country. Every students experience is different and they all learn different lessons about themselves and the countries they have visited. Several students I have spoken with have talked about their homestays and service visits and how they went expecting to learn about the country and came back learning much more about themselves as an individual.
Being a SAS alum makes you a part of a unique population that most people don't understand and creates a bond across generations no matter when a student sailed.
Describe a time when you felt especially proud to be part of your current team.
One of the busiest times for the Enrollment team is in the middle of the fall semester. The team is in the middle of busy travel seasons and it is also the time when scholarships are due in to the office and the review begins. It is not uncommon for an enrollment team member to begin a trip and bring a stack of applications with them to review on the plane. This is one of the times that I am proudest to be a part of my team because we all work together to ensure that travel is going well, applications for admission and financial aid are being reviewed and helping students to financially be able to afford the voyage. Even though it is a high stress time, we all pull together to make sure that the upcoming voyage will be a success.