View Other Details

Program Details

Activities

City Exploring

Dancing

Sightseeing

Housing

Guesthouse

Host Family

Hostel

Pricing

Price Details

Weekly price includes accommodation, breakfast & lunch, 15 hours intensive Spanish lessons in the mornings Monday to Friday, twice weekly professional dance lessons, three times weekly 'Discover Cuba' cultural excursions/activities, weekend excursions including to the beaches at 'Playas del Este' and a long weekend in Viñales Valley (4 week program only; or optional with 2 or 3 week program upon payment of a supplement).

Program support from our all Cuban local team 24/7 to help maximize your free time.

Cost of extra night – accommodation & breakfast USD 40

Cost of airport transfer – each way USD 40

What's Included

Accommodation

Activities

Meals

Tour Guide

What's Included (Extra)

24/7 program support from our local team including welcome camino within 24 hours of arrival to get to know the local area and practical services such as money change, wifi services and cool bars & places to hang out

What's Not Included

Airfare

Domestic Airfare

Airport Transfers

SIM cards

Travel Insurance

Visa

What's Not Included (Extra)

Private taxi/airport transfer on arrival USD 40 each way. Dinner is not included but many options on your doorstep to provide for all budgets.
0 travelers are looking at this program
One to four weeks full cultural immersion based in Old Havana, Cuba. Spanish classes are supplemented with dance classes, cultural tours and adventure activities to explore, enjoy and experience this amazing country!
Staying in a Casa Particulare in the heart of in Old Havana, Spanish language lessons take place Monday to Friday in the mornings, and in the afternoons you receive professional dance classes and cultural excursions. Weekend trips feature the beach and a two-night weekend road trip to Viñales (four week program only).
Accommodation, breakfast & lunch INCLUDED in licensed Casa Particulares; shared same sex dorm rooms with other program participants (couples or friends booking together automatically upgraded to private room with en suite/private bathroom) OR upon payment of a single room supplement you have the option to stay in another nearby Casa with your own room and private en suite bathroom.
Program Highlights
Live in the heart of Old Habana and enjoy a full immersion into Cuban life – and a unique opportunity to really understand what makes this amazing country so special
Busy program includes accommodation, breakfast & lunch and Spanish lessons throughout, professional dance lessons and cultural activities
Start dates every week - ideally arriving Sunday/during the weekend... we are open 365 days a year!
18+ program with no upper age limit (minors welcome if accompanied by an adult - this program is family friendly also!) - we welcome all ages & nationalities!
Program Managers and all Cuban crew will help you feel at home providing 24/7 support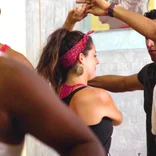 Building on the success and popularity of our Learn Spanish, Dance & Culture program we have developed a program that can be enjoyed in either HAVANA and/or TRINIDAD and features dance classes EVERY afternoon. As usual accommodation, breakfast & lunch are provided throughout with dance classes every afternoon at the amazing Casa de Son dance school. Only $495 per week.