Learn Spanish, Dance & Adventure in Havana & Viñales
View Other Details

Program Details

Activities

City Exploring

Dancing

Horseback Riding

Housing

Guesthouse

Host Family

Hostel

Pricing

Price Details

Four week price includes accommodation (28 nights) in shared room with breakfast & lunch included (private rooms also available).

Spanish lessons (structured/intensive) each morning Monday to Friday from 09:00-12:00.

Dance lessons featuring Salsa – Tuesday and Thursday at 14:00 in a licensed dance school (approximately one hour each lesson). Ratio of instructor to student 1:1

Discover Cuba cultural excursions/activities Monday, Wednesday and Friday afternoon (usually commencing 14:00).

Two weekends feature a guided trip to the beach.

Week 3 is an adventure week in Viñales; inclusive transfers, accommodation, breakfast & lunch, Spanish lessons and adventure activities each day (see website for full details).

What's Included

Accommodation

Activities

Some Meals

Tour Guide

Transportation

What's Included (Extra)

Includes 28 nights accommodation, breakfast & lunch, welcome camino, 15 hours weekly intensive Spanish lessons, two weekly dance lessons, three weekly cultural excursions/activities, two escorted trips to the beach and an adventure week to Viñales including daily activities described.

What's Not Included

Airfare

Domestic Airfare

Airport Transfers

Some Meals

SIM cards

Travel Insurance

Visa

What's Not Included (Extra)

Private taxi/airport transfer on arrival USD 40 each way. Dinner is not included but many options on your doorstep to provide for all budgets.
18 travelers are looking at this program
Four week full cultural immersion based in Old Havana & Viñales. Spanish classes are supplemented with dance classes, cultural tours and adventure activities to explore, enjoy and experience this amazing country!
Three weeks – 1st, 2nd & 4th week – are based in the atmospheric heart of Old Havana, Cuba. Spanish language lessons take place Monday to Friday in the mornings, and in the afternoons you receive dance classes and 'Discover Cuba' cultural excursions. Two weekends feature a trip to the beach while during the third week we change the setting and pace with adventure activities in Viñales.
Accommodation, breakfast & lunched INCLUDED in licensed Casa Particulares; shared single sex dorm rooms with other program participants (couples or friends booking together automatically upgraded to private room with en suite/private bathroom) OR upon payment of a single room supplement you have the option to stay in another nearby Casa with your own room and private en suite bathroom.
Program Highlights
Live in the heart of Old Habana & Viñales and enjoy a full immersion into Cuban life – city and country / past and present – and an opportunity to really understand what makes this amazing country so special
Busy program including accommodation, breakfast & lunch and Spanish lessons throughout, transfers to/from Viñales, dance lessons and cultural activities in Habana and adventure activities on horseback, foot and bicycle in Viñales
Starts first & third Sunday of EVERY month and includes 28 nights but you are welcome to arrive early and/or extend for extra nights... we are open 365 days a year!
18+ program with no upper age limit (minors welcome if accompanied by an adult - this program is family friendly also!); we welcome all ages & nationalities!
All Cuban crew and Program Managers will help you feel at home providing 24/7 support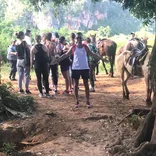 Go back in time and experience a traditional Cuban lifestyle in the beautiful town of Viñales. After Spanish lessons enjoy daily adventure activities including hiking, horse-riding and cycling through some of the most wonderful landscapes in Cuba. 7 nights accommodation, breakfast & lunch, Spanish lessons and daily activities included. The program starts and finishes in Viñales, but transportation from Old Havana can be arranged.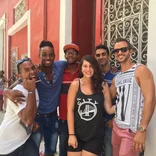 One or more weeks of Spanish lessons, cultural excursions and dance lessons plus full program support to help you maximise your time in Cuba. Great way to get a handle on the basics and discovering Cuba before doing some independent travel to explore the rest of the country. Only $475 per week including accommodation, breakfast & lunch.