Location
Multiple Locations
+8
Antigua and Barbuda
St. Lucia
Guadeloupe
Grenada
Saint Kitts and Nevis
St. Vincent and the Grenadines
Martinique
Dominica
View Other Details

Program Details

Activities

Sailing

Scuba Diving

Sightseeing

Pricing

Price Details

12 academic credits from the University of South Florida

International Yachtmaster Training (IYT): International Crew Certificate and Navigation Master

PADI Open Water, Advanced Open Water, Rescue or Divemaster Certification

What's Included

Accommodation

Activities

Equipment

Meals

What's Not Included

Airfare
29 travelers are looking at this program
Discover the Caribbean as most never will. Dive among her celebrated reefs, hike along her ancient volcanoes, and sail on her aquamarine waters.
Grasp lessons (and earn 12 college credits) in oceanography, marine biology, basic seamanship, and leadership--not to mention the wisdom that comes from working with a diverse group to complete this epic Sea|mester journey. Study marine biology up-close as you tag turtles at Mountain Point and complete reef check dives in Soufriere, St. Lucia. Climb to the top of the Seven Sisters waterfall in Grenada. Dive off Great Dog Island to explore the array of marine life that call a submerged airplane home.
All told, you'll explore the islands of Saba, St. Eustatia, The Grenadines, St. Lucia, Martinique, Dominica, Guadeloupe, and The Saints, Montserrat, Antigua, and St. Barts. If you want to see every facet of the Caribbean, earn accredited sailing and diving certifications as well as a full semester of college credits!
Program Highlights
Become a skilled, competent and licensed scuba diver from basic to professional levels
Learn to sail a modern schooner and earn certification in sailing and navigation
Earn 12 College Credits From the University of South Florida
Explore the Caribbean Leeward Islands from the deck of a boat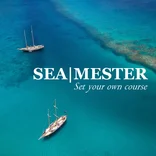 Seamester Scholarships & Financial Aid
Seamester offers a number of Financial Aid and Scholarship options available for those looking toward funding to make their experience possible.