Location
Multiple Locations
+4
Fiji
Palau
Micronesia
Indonesia
View Other Details

Program Details

Degree Level

High School Diploma

Pricing

Price Details

12 academic credits from the University of South Florida

International Yachtmaster Training (IYT): International Crew Certificate, Navigation

Master and Master of Yachts 200 Ton Theory (course based on experience)

PADI Open Water, Advanced Open Water, Rescue or Divemaster Certification

Over 4000 nautical miles

What's Included

Accommodation

Activities

Classes

Meals

What's Not Included

Airfare
47 travelers are looking at this program
Sailing from Fiji to Bali is known as one of the world's most amazing trade wind sails; yachtsmen the world over call it "The Coconut Run."
It begins when you cast off your line from the dock in Viti Levu and 80 days, 5000 nautical miles, and 12 credits later, this Sea|mester voyage ends as you tuck your bow behind an exotic reef into the protected waters of Bali via Palau, one of 500 islands that form an archipelago in the Micronesia region of the western Pacific.
In between, you get to hoist and lower the sails of a beautiful schooner, anchor in secluded lagoons, catch fish straight from the Pacific Ocean, anchor off the reefs of Raratonga, climb and hike with natives of the Tonga Archipelago and participate in a Kava ceremony with the chief of a Fijian village. Are we missing something here? Not likely - but YOU will be missing something to tell your grandkids someday if you don't sign up early enough to be among those fortunate enough to be part of this Sea-mester voyage.
Program Highlights
Become A Certified Scuba Diver
Learn to Sail
Earn 12 College Credits from the University of South Florida
Sail 4000 miles Across the South Pacific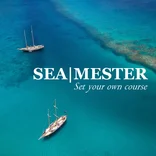 Seamester Scholarships & Financial Aid
Sea|mester offers scholarships, financial aid, and tuition assistance to applicants who show great potential to succeed and grow from our unique experience yet would otherwise be only able to attend with financial assistance.
The total amount of funds available for any given semester varies. There is no scholarship application fee, and all Sea|mester applicants are eligible to apply.