Seamester offers unique educational voyages where students spend their time sailing between countries and continents. For more than 40 years, we have consistently delivered outstanding educational experiences for students. We design our programs to provide engaging learning experiences with real outcomes in ways that are impossible to replicate in the traditional classroom. Living as part of a close-knit team on an ocean-going vessel, students learn some of the most important lessons beyond academics: teamwork, hard work, and personal responsibility. Our programs are designed to challenge students to realize that it is the journey, not the destination, that matters most.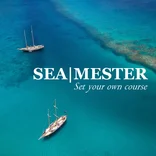 Seamester Scholarships & Financial Aid
Sea|mester offers scholarships, financial aid, and tuition assistance to applicants who show great potential to succeed and grow from our unique experience yet would otherwise be only able to attend with financial assistance.
The total amount of funds available for any given semester varies. There is no scholarship application fee, and all Sea|mester applicants are eligible to apply.
Alumni Interviews
These are in-depth Q&A sessions with verified alumni.
Staff Interviews
These are in-depth Q&A sessions with program leaders.
Professional Associations