China: Shanghai - Chinese Language and International Business
Term
Academic Year, Fall, Spring, Summer
Need-based funding, Merit-based funding, General grants/scholarships
View Other Details
15 travelers are looking at this program
The Shanghai program is ideal for students who are interested in studying the economic and business environment of China and East Asia. Once a sleepy fishing town, Shanghai is now the hallmark of China's booming economy. It is the perfect place for you to learn about the business environment of East Asia and study Chinese language. Mandarin is the official/standard dialect used in China, and Shanghai is a great place to practice it outside of class. While learning Chinese language and business logistics during the week, you will be able to take in dozens of art exhibitions, sport competitions, movies, museums, musical events, nightclubs, and more.
The Shanghai program offers an intensive language approach that allows you to complete up to one year of university foreign language coursework in only one semester. You may combine courses from the following subject areas: International Business and Intensive Chinese Language. Field trips and optional tours are also available.
There are LGBTQIA+ friends, colleagues, and allies throughout the world. However, cultural understanding of gender identity and sexuality does vary from country to country. USAC has compiled a lot of resources to help you through that learning process.
USAC is dedicated to working closely with students with disabilities to ensure the best study abroad experience possible. You may request reasonable accommodations after your initial application is complete. We routinely receive requests for scheduling, material, and environmental accommodations for the classroom setting, which may include assistive technology, scribes and readers, printed material, and interpretation.
Environmentally-conscious students choose USAC because many of our programs are held in some of the most sustainable countries in the world. There are options to take coursework in sustainability and the environment, as well as field trips and studies where students can leave a lasting impact on their host country.
Program Highlights
Choose from multiple levels of Mandarin Chinese—an increasingly important language in today's global society
Explore the city's sophistication, fine arts, spectacular museums, culinary fusion, and world-class entertainment
Gain international business experience—300 of the world's Fortune 500 companies have a major presence
Enjoy overnight trips to the beautiful Yangzi River Delta—picturesque Hangzhou, Nanjing, and Suzhou—and the exotic water village of Xitang
Kick-start your career with the Shanghai Summer Professional Development Internship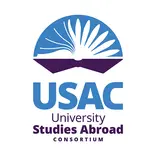 USAC Scholarships and Financial Aid
USAC awards over $2 million in scholarships and discounts each year to assist students with their study abroad expenses.