Study Abroad at University of Sussex, Brighton
Term
Academic Year, Fall, Spring
View Other Details

Program Details

Program Type

Direct Enrollment

University

University of Sussex

Degree Level

Bachelors

Masters

PhD.

Housing

Dormitory

Host Family

Pricing

Price Details

Autumn / Spring semester: £10,750

Full year: £21,500

What's Included

Some Activities

Classes
43 travelers are looking at this program
The University of Sussex is one of the United Kingdom's top universities and a world-renowned higher-education institution, consistently ranked among the best universities around the world and ranked 1st in the world for Development Studies.
Sussex provides one of the largest study abroad programs in the UK - boasting more than 1,000 modules across almost 30 major areas.
Only one hour from central London and 30 minutes from London Gatwick international airport, Brighton is a sunny seaside city on the South Coast of England, famous for its festival and arts scene, and having a dynamic, cosmopolitan and vibrant sense of inclusivity.
Outside of the excellent academia, at Sussex you can explore any of 200 societies, cafés, bars, and events on campus, visit the famous Brighton beach and pier or take in the shopping centers and festivals.
We are deeply committed to sustainability and environmental stewardship, actively integrating eco-friendly practices into its operations, curriculum, and campus development. Through initiatives such as sustainable transportation options, waste reduction programs, and renewable energy projects, the university strives to minimise its ecological footprint. By engaging students, faculty, and staff in sustainability efforts, Sussex creates a culture of environmental responsibility that prepares future leaders to address global challenges.
The University of Sussex places a strong emphasis on ethical impact by fostering a culture of social responsibility and ethical awareness among its students and staff. Through interdisciplinary research, community engagement, and partnerships with ethical organizations, the university addresses pressing societal issues and seeks innovative solutions for a more just and sustainable world. By integrating ethics into academic programs and encouraging critical thinking, Sussex aims to empower individuals who are equipped to make positive ethical contributions to society.
Program Highlights
Constantly ranked among the top universities in the world. The Times Higher Education World University Rankings 2023 placed Sussex 201-250th in the world overall, 74th for Social Sciences.
'University of the Year for Student Retention' by The Times and Sunday Times Good University Guide 2022.
Sussex is ranked in the top 10 universities in the UK for Brighton's diverse nightlife (pubs, clubs and music venues) and political activities.
Over 1,000 top-tier study modules to choose from - Sussex is known for its Humanities and Social Sciences field, with its Development Studies program being placed at number 1 globally in the QS World University Ranking.
City of Brighton ranked 1st in England for student happiness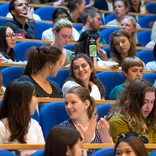 The University of Sussex has one of the UK's largest schools of Psychology, with specialists in every area of psychology. Our faculty has been recognised for their outstanding teaching & we have over 40 classes to choose from.
The School has approximately 600 m2 of laboratory space, well equipped to support the needs of research groups, and an extensive range of general facilities, including 18 cubicles (for individual testing) and a large room used for the simultaneous testing of groups.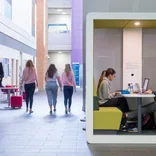 Sussex's School of Global Studies offers over 60 modules for students in the world-ranked disciplines of Development (1st globally) and IR (world top 100).
You will learn from experts making a difference across the world who are committed to social justice and challenging global inequality, addressing the most pressing global issues of our time – global inequalities & justice, climate/environmental change, war & peace.
About University of Sussex