View Other Details

Program Details

Housing

Apartment

Host Family

Pricing

Price Details

Contact IES Abroad or check out our website for more details!

What's Included

Accommodation

Classes

Wifi

What's Not Included

Airfare

Visa
3 travelers are looking at this program
Our Nice study abroad programs offer students the opportunity to take courses in disciplines such as Business, Engineering, Science, and Liberal Arts, as well as French language available at all language levels, including intensive French.
Set upon the edge of the Mediterranean Sea on the glamorous French Riviera, Nice beckons with its mild climate and clear skies. Whether you're strolling along the famous palm-lined Promenade des Anglais to witness the sunset over the sea, or looking down from Colline du Chateau (Castle Hill) at the sweeping panorama of this breathtaking city, Nice will enchant you.
Program Highlights
Study abroad in France and gain exposure to the French language with no previous language study required.
Get to know Nice through extracurricular activities and cultural events.
Earn 15-19 credits per semester.
Travel to nearby town and cities on IES Abroad sponsored field trips, possible destinations include Avignon, Barcelona, Corsica, and Marseille.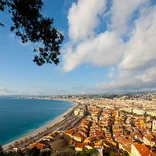 Enjoy all that Côte d'Azur has to offer while studying the culture and history of the French Mediterranean coast, improving your language skills (no experience required), and learning about business with other international students. You will take your language and area studies courses at the IES Abroad Center, accompanied by IPAG Business School courses. The IPAG Business School is located in the economic heart of Nice and offers many courses taught in English.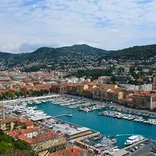 Live and learn alongside students from France and around the world by directly enrolling at SKEMA Business School. SKEMA's state-of-the-art business campus is located in the heart of Sophia Antipolis, where you will directly enroll in business, engineering, and/or science courses while improving your skills with French language courses. SKEMA, which has AACSB and EQUIS accreditation, is consistently ranked as one of the best European business schools by the Financial Times.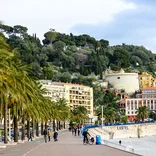 The Roman ruins on Cimiez Hill, medieval cobblestone streets, the Largest Russian Orthodox Cathedral in Western Europe—witness these cultural staples and many more when you spend a summer studying abroad in Nice. This gorgeous coastal city in southern France is the perfect place to explore the growing diversity and multiculturalism in France, the Mediterranean basin, and Europe as a whole, to study abroad and experience all that the city, its people, and culture have to offer.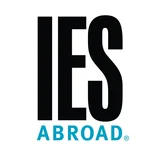 IES Abroad Scholarships and Financial Aid
Financial limitations shouldn't prevent you from studying abroad with us. That's why IES Abroad offers more than $6 million in scholarships and aid. IES Abroad offers a number of diversity scholarships and grants to provide opportunities for traditionally underrepresented communities in study abroad.