ISA Study Abroad in Galway, Ireland
Term
Academic Year, Fall, Spring, Summer
View Other Details

Pricing

Price Details

Program Price Includes:

• Comprehensive Advising and Support

• Tuition at the Host University

• Official Transcript from Host University with ISA Cover Letter

• Housing

• Meals and Laundry Services

• Bridging Cultures Program

• Full-Time Resident Staff

• On-Site ISA Offices

• Computer and Internet Access

• Excursions

• The ISA Discovery Model

• Cultural Activities

• Medical Insurance

• Comprehensive Health, Safety and Security Support

• Airport Reception

• Visa Support

• Tutoring

• The Professional Development Toolbox

• Scholarship Opportunities
34 travelers are looking at this program
ISA offers students an amazing opportunity to study abroad at the University of Galway. Students can take courses alongside other international and local students from a large list of options including arts, business and law. Galway was established in 1845 and attracts students and faculty from around the globe for its innovative approach to research and teaching. Galway has a student population of over 17,000 and a sizable number are international. Sign up with ISA today to make your next semester or academic year one of the most memorable in your life! Check out all of the details by consulting ISA's extensive website right now!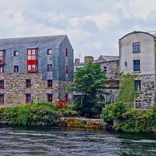 University Galway is the largest and oldest university in Western Ireland, set between Connemara and the Burren on the broad sweep of Galway Bay. The university boasts a large course offering and world-renowned research in Biomedical Science & Engineering, Web Science, Human Rights, and more.
ISA Scholarships and Financial Aid
ISA is committed to increasing all students' access to study abroad's many benefits. We don't let financial hardships to get in the way of a life changing educational experience.